Meet the partner: Laura Shurden Yoga
Published: 14th May 2021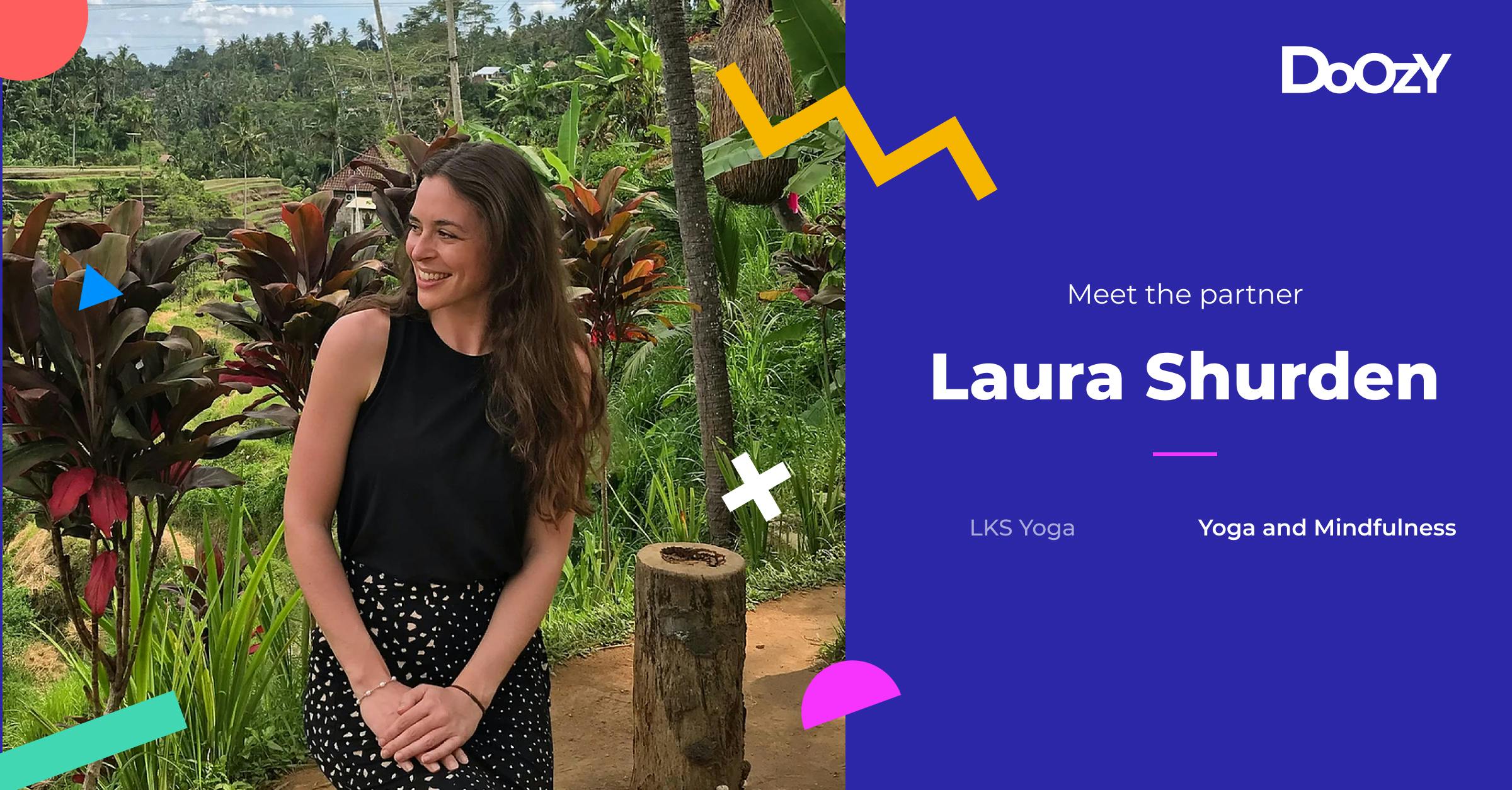 In this week's instalment of meet the partner, you'll get to know the fabulous Laura - yoga aficionado. She'll be kicking off our free, live streamed classes on Wednesday with On The Chair Yoga! Guaranteed to brighten up your week. Keep your eyes peeled for a link coming soon. You can also book private classes, personalised for your teams needs, all within Doozy!
How did you get started with Yoga?
My Mum is into Yoga and took me along with her to my first Yoga class at a local village hall several years ago. Until then I had always been very interested in fitness and used to work out at the gym a few times a week, but had been feeling that I'd reached a plateau and was looking for something new. I actually expected Yoga to be too slow and calm for me, but I enjoyed the class so much that it completely blew all pre-conceptions out of the water. I couldn't compare the sense of peace I experienced to anything else, and I wanted to understand Yoga on a deeper level. From there I sought out as many different teachers and classes as I could find and then began training to be a teacher myself.
What benefits will Yoga bring to home workers?
Managing our time and the many different roles we have to fulfil in our lives can be extremely challenging at times, and if something has to give, nine times out of ten it will be any time we had aside for ourselves. Although working at home has its benefits, such as saving time and money on commuting, the danger is that our boundaries between work and home can be blurred in both the physical and mental spaces. This makes it even less likely for us to put time aside for our own wellbeing since it's too tempting and accessible to jump into work-mode at any given moment. Yoga lessons enable you to find that space just for you, both physically and mentally, in which you can have a break and switch off from the constant mind-chatter and ever-growing to-do lists. Sitting down for long periods of times and hunching over computers pulls our bodies into positions which cause all sorts of aches and pains, and Yoga will help to un-do all of those actions, bringing your body into a state of balance and ease. 
What is your preferred yoga style?
I love both Vinyasa Flow and Ashtanga Yoga, although they are both completely different from each other. There is an infinite amount of sequences available in Vinyasa Flow, and I enjoy creating sequences to suit specific needs and preferences. It's this freedom to explore your body and your practice in Vinyasa which really appeals to me, and ironically, it's the structure and discipline of Ashtanga which I equally love. Ashtanga Yoga follows the same set of sequences, enabling yourself to make progress each and every time, which is really motivating. I suppose it depends how I feel on the day!
How should a complete beginner get started?
Great question. The Yoga Sutras (the collection of writings on theory and practice of Yoga), make it clear that when you decide to go to your first Yoga class you have actually already begun practicing Yoga, because Yoga is so much more than a physical practice, it is the union between body, mind and spirit. So to be interested in Yoga shows that you already have a desire to connect with and find time for your true, authentic self. Of course many people come to Yoga to improve their bodies physically, which is also great, but traditionally the physical benefits are a side product of Yoga, rather than the main event. So my advice for complete beginners is to not worry at all about how you look or whether you're doing certain positions 'right', or that other people are so much more advanced than you. It really doesn't matter. Take each class as it comes, continue returning to your mat and explore many different types of yoga with different teachers before finding what really works for you. 
What do you have in store for your new classes on Doozy?
I'm so excited for these new classes on Doozy! They will be in the style of Vinyasa Flow so that we have the freedom and flexibility to explore lots of different things. Each class will integrate breathwork and meditation (Vinyasa Flow is a moving meditation) as well as the physical postures, in order to bring a sense of peace into the mind and ease into the body. I'll focus mostly on creating sequences which un-do the more common aches and pains that officer-workers experience, also thinking about anti-arthritic movements and bringing down levels of stress and anxiety. We'll begin with Chair Yoga classes which should make it accessible for everyone.
Are you ready to meet work away your aches and pains with Laura? Book one of her classes today!