Desert Island Stacks with Claire Cathcart - YuLife
Published: 16th November 2022
In this series, Doozy founder Milo speaks with leaders and experts in HR & People Management to ask about their absolute essentials when stuck on a desert island. Discover the newest insights from the remote work world and get the knowledge you need to create a high-performance and happy remote culture.
This week, we heard from Claire Cathcart from YuLife.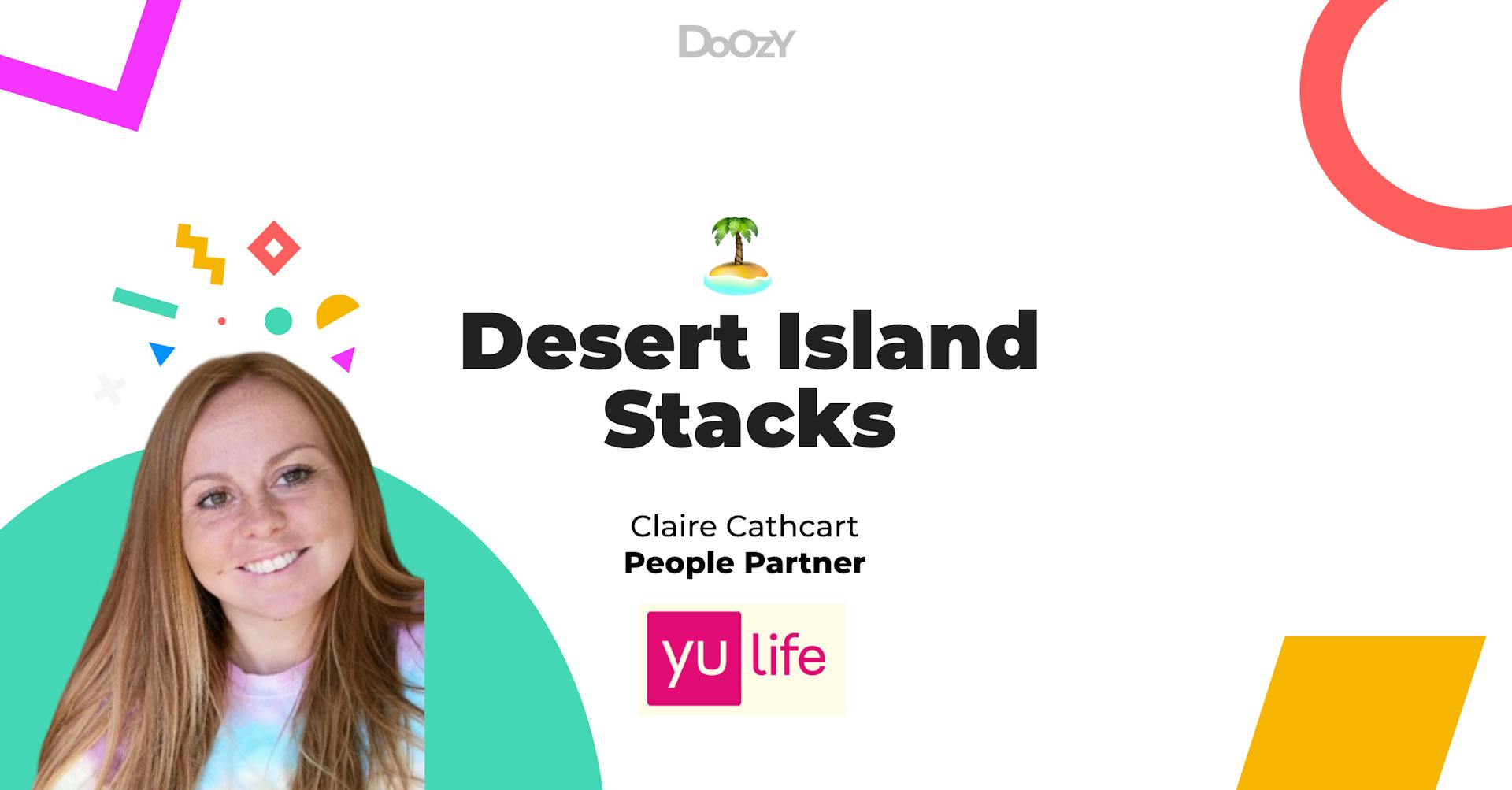 Milo: What got you into working on the People team?
Claire: After stumbling across a job advert for a role in the People Team at YuLife my Googling commenced. YuLife has an amazing brand, a unique culture, and impressive growth plans. Luckily for me, I was offered a role and started with the team back in June!
Milo: Talk us through each of your 5 picks, from most important to least. Why did you pick it, and why couldn't you live without it?
Claire:
LinkedIn - An amazing platform where we source the majority of our superstar YuCrew. 
YuLife - Disrupting the world of insurance. Protecting lives and rewarding wellbeing. The YuLife app has helped me form new habits around walking and meditation. Being given the chance to use my rewards on really meaningful causes is also a huge win. I'd be lost without it!
Disruptive HR - If you're in HR and want to keep up with the latest trends, get great advice and see what other HR folks are up to you should definitely subscribe to these guys. 
Slack - Keeping our culture alive across our remote workforce. We have channels for work, channels for fun, channels for support and everything else in between. 
Notion - Hosting our soon-to-be-launched Intranet, this is going to transform the way people can find information across the business.
Milo: What other tools do you dream about, while looking at the stars and wishing you had more credits on your card?
Claire: Would love to have an all singing all dancing LMS with inbuilt content to wow and take our skills to the next level
Milo: Who/what do you follow to start your stay up to date with the latest in tools, techniques, and trends in the People space?
Claire: Disruptive HR is my current go-to, but there are also lots of HR thought leaders that I follow on LinkedIn
Take your Slack team collaboration to the next level with Doozy - Matchmaking! Effortlessly schedule introductions for your team members and experience an enhanced team culture. Don't hesitate, try it now and see the impact for yourself!
Author
Milo Hill
Milo is the founder and CEO of Doozy. Passionate about helping remote & hybrid teams stay connected.