5 Slack Apps for Birthday Celebrations
Published: 17th August 2023
Slack is one of the most popular communication apps for the workplace, with more than 100,000 companies using it to connect their employees. 
In busy workplaces, where deadlines and deliverables take center stage, celebrating teammates' birthdays, work anniversaries or accomplishments might seem small, but it's really important. These events help everyone feel like a team and show that you value what people bring to the table. 
So how can you use Slack to celebrate significant moments in your team? Here are 5 of the best Slack apps for team celebrations.
Yes, that's us! Doozy automatically keeps track of all birthdays and anniversaries, sends reminders to managers and lets you create one-off celebrations.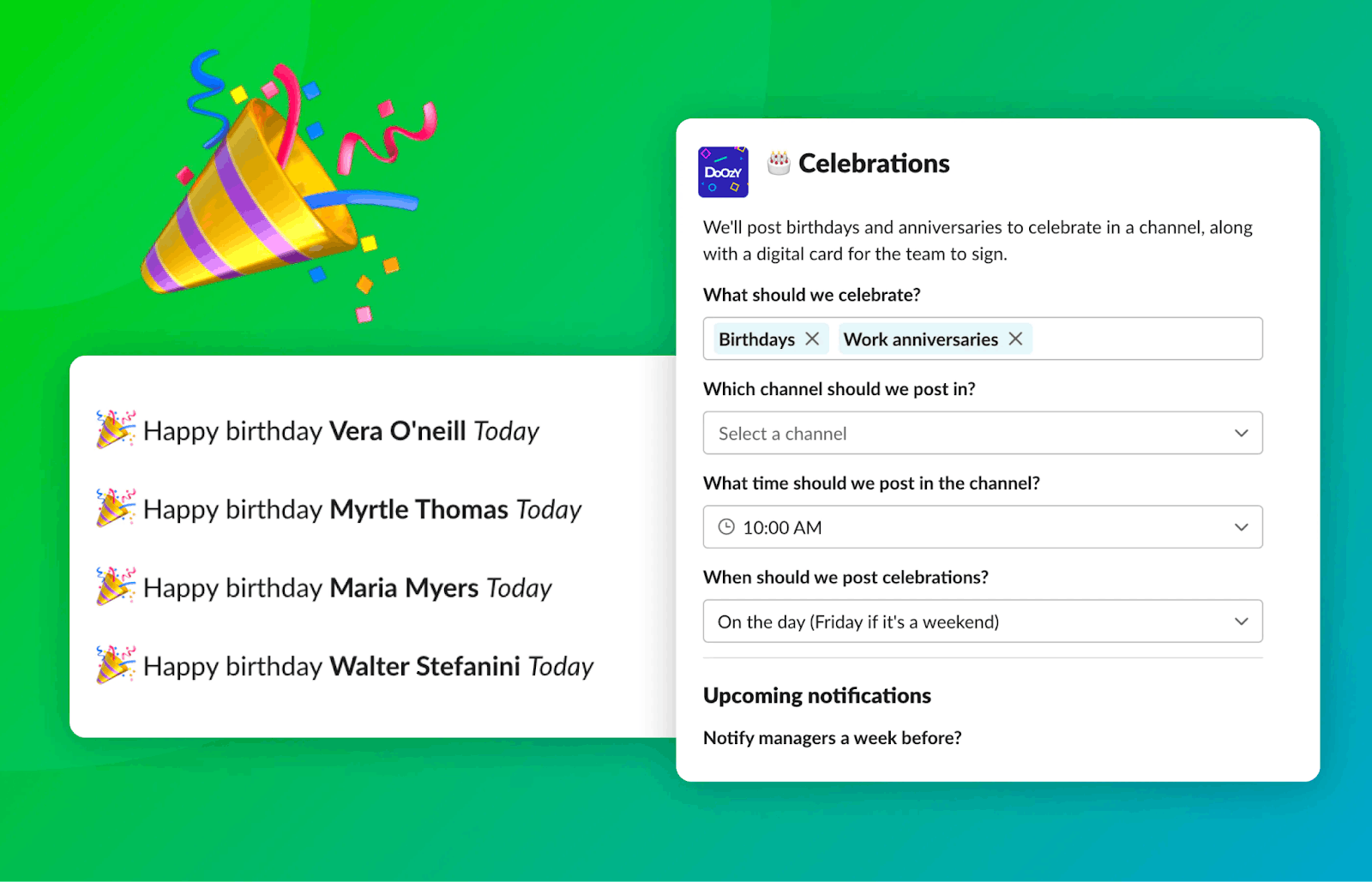 Pros:
Integrates directly with your HRIS, so no need to manually add data
Celebrations are customizable: keep them as text-based posts, or include images or GIFs
Create virtual cards for the whole team to sign
Upcoming notifications for managers and team members
Create custom celebrations and one-off cards
Celebrations are just one feature of the Doozy, along with Coffee Chats, Trivia, Icebreakers and Socials. 
Cons:
Not the cheapest option, but the automations and additional features make it well worth it
Pricing: From $2.60 / user / month
CelebrationsBot provide a basic way for you to keep track of and notify the team about birthdays and work anniversaries.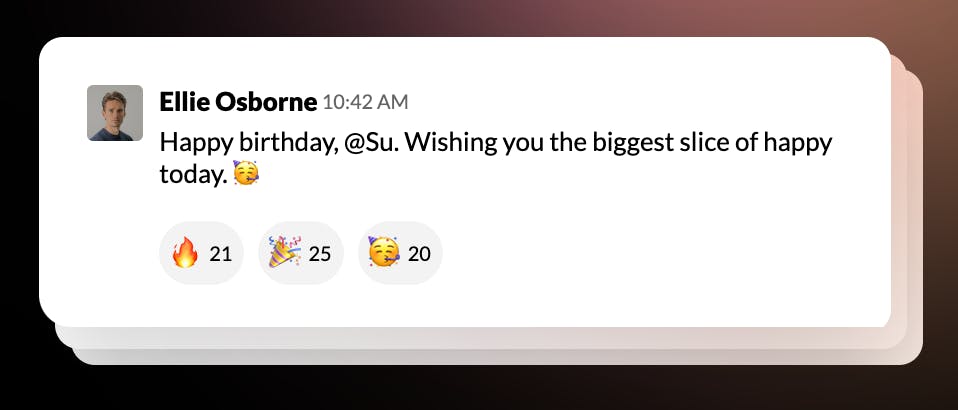 Pros:
You can create custom celebrations for occasions other than birthdays and anniversaries
Cons:
Data input for significant dates appears to be manual
Celebration notifications are limited to text-based posts
Doesn't support virtual birthday cards
Doesn't notify their managers in advance
Price: From $0.5 / user / month

Donut Celebrations features customizable, automated posts in the channel of your choice for birthdays, anniversaries, and holidays.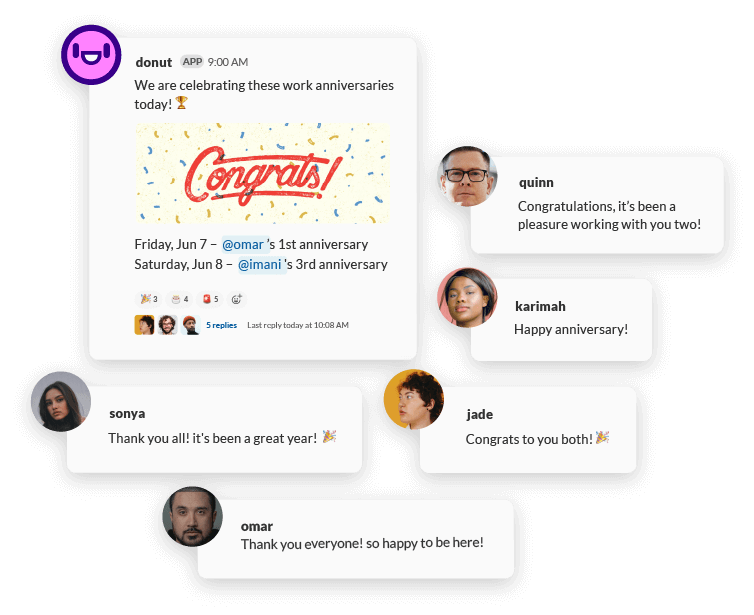 Pros:
Team members can personalize their own settings, opting in/out of each celebration
You can create custom celebrations, including images
Cons:
Data input is manual: individual users are asked to input their own data, or companies are asked to upload manually in bulk
Can't create virtual birthday cards
Price: From $49 per month based on 24 users to $399+ for over 100 users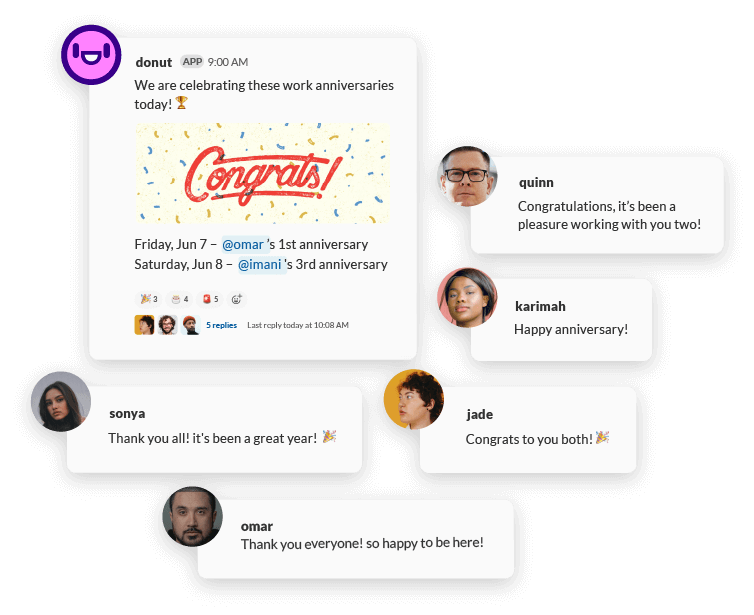 Pros:
You can generate fun custom celebration messages with AI
You can choose from a library of suggested templates and GIFs to enhance your celebration messages
Cons:
Users need to add their own dates for birthdays, anniversaries etc.
No HRIS integrations
No manager notifications
Price: Free during early access; future pricing not confirmed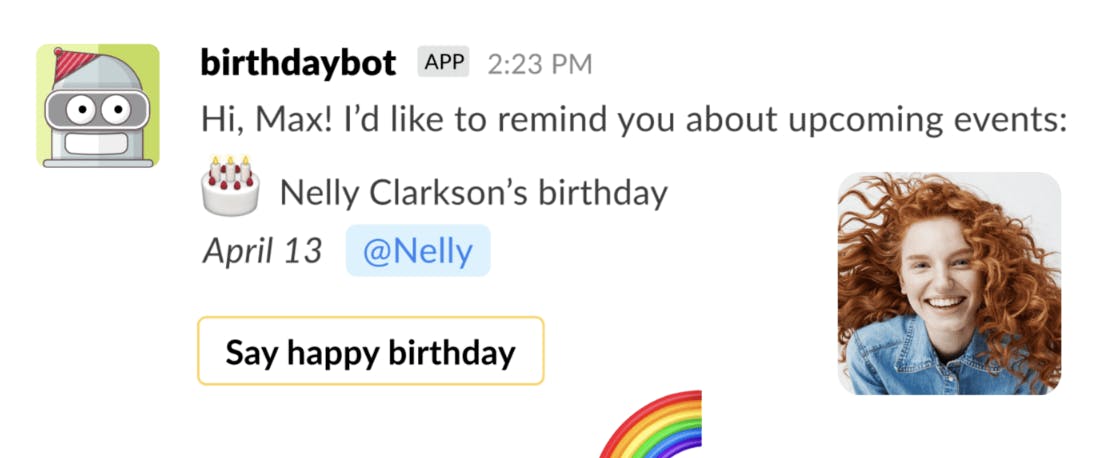 Pros:
You can choose from a library of suggested templates and GIFs to enhance your celebration messages
Customizable congratulation packs are available
Cons: 
Users need to add their own dates for birthdays, anniversaries etc.
Can't create customised cards
No manager notifications
Price: From $0.60 / user / month for birthdays only, $1.59 for birthdays and anniversaries