Desert Island Stacks with Chase Warrington
Published: 19th December 2022
In this series, Doozy founder Milo speaks with leaders and experts in HR & People Management to ask about their absolute essentials when stuck on a desert island with nothing but a laptop and high-speed internet a corporate card with just 5 purchases remaining.
What SaaS tools will make the cut?
This week, we heard from Chase Warrington from doist.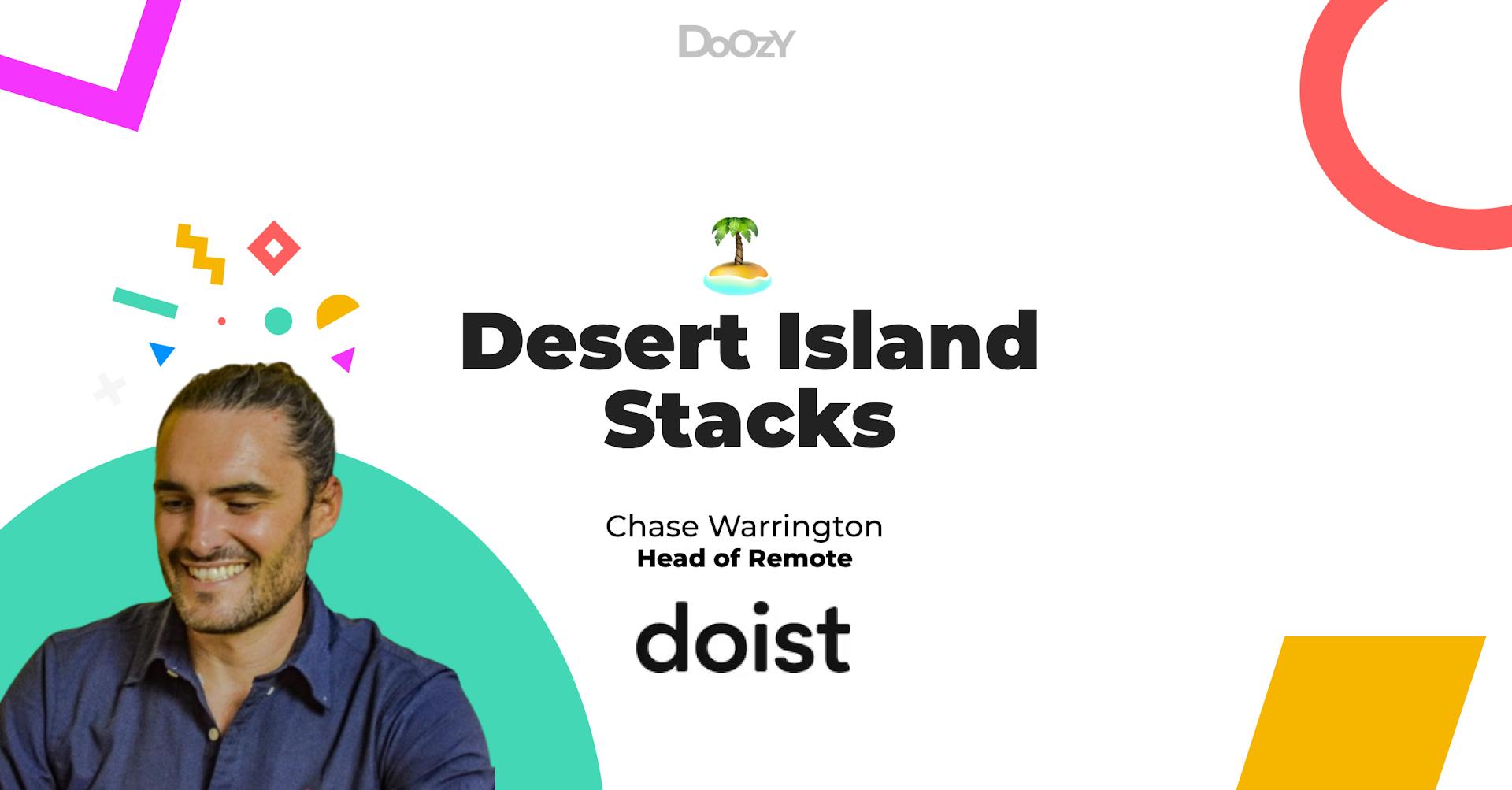 Milo: How did you end up in a role with the awesome title of Head of Remote?
Chase: Long before Doist had an official Head of Remote, we were a remote-first organization employing 100 people distributed across more than 35 countries. Remote has always been our superpower so we decided that we wanted to be a part of pushing the distributed work movement forward—to be an example for others. I have worked remotely my entire 13 year career, and am passionate about making remote work, work, at the highest level. I gladly accept opportunities to share our remote story with others. 
Then as the pandemic changed the landscape of remote work forever, and the WFA community exploded, we recognized that if we wanted to stay at the forefront of this movement, we needed someone experienced to lead this charge internally at Doist. That's when we decided to hire a Head of Remote, and I was honored to accept the role! 
Milo: Talk us through each of your 5 picks, from most important to least. Why did you pick it, and why couldn't you live without it?
Chase:
Milo: What other tools do you dream about, while looking at the stars and wishing you had more credits on your card?
Chase: We operate on Google Workspace, and while I may not dream about Sheets and Docs, I'd have some nightmares ahead of me if we had to try and live without them. Keeping all of our documents and files in a central and transparent place is key to our success as a team, so even if this isn't the flashy answer, practically speaking, it's a cornerstone of our tech stack.  I'm also a big fan of collaboration tools like Miro and Mural, as well as Spot (walking meetings), and Ramp (virtual credit cards and expense reporting). 
Milo: How do you stay up to date with the latest in tools, techniques, and news in the people space?
Chase: Part of my job is to live in this world and help us stay on the cutting edge in terms of emerging technologies and trends. Fortunately, I spend a lot of time exploring in this space! 
Amplify the communication channels within your Slack team with Doozy's Team Socials Feature. Discover an exciting and engaging social experience that will create a stronger bond between team members. Don't miss out on this opportunity to unlock your team's full potential, try Doozy for free today!
Author
Milo Hill
Milo is the founder and CEO of Doozy. Passionate about helping remote & hybrid teams stay connected.