The Power of Unity: 7 Team Building Activities for A United Team
Published: 22nd February 2023
Have you ever worked on a team where everyone seemed to be in their little world? Where communication could have been clearer and collaboration better coordinated? As someone who has experienced this first-hand, I know how frustrating and unproductive it can be.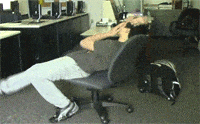 That's why it's vital to have structures in place that glue your team together. Today, I will present to you such a glue: team building activities. Team building activities are more than just having fun together, they can help break down those little worlds and create a stronger, more cohesive team that works together in a united world.
In this article, we'll explore seven team building activities that are designed to help your team stick together more effectively, and achieve maximum results. Whether you're a Leader, or an HR/People Manager looking to improve your team's performance, these activities are sure to deliver the results you're looking for.
What Are The 4 Main Types Of Team Building Activities?
Before we get into the team building activities, let's have a look at the four main types of team building activities.
Virtual team building is often used by remote/hybrid teams who don't have the opportunity to get together in person. However, they can also be used by co-located teams who want to experience a different type of team building activity than they are used to. 
Offline team building is what you do in person. They can be done at the workplace or at special off-site venues that allow the team to forget about their everyday tasks more easily.
Async team building is done online but don't require everyone to be online at once. These can be Slack Apps or services where the team members respond at their own pace.
Hybrid, or blended team building combines two or more methods of team building together. For example, you can use a live activity to kick off the day followed by a virtual activity that everyone participates in at their own pace. In this case, the goal is to increase participation and engagement with the activities.
What Are Good Team Bonding Ideas?
The best team building activities are those that can be tailored to your company's needs and are likely to have an impact on the way your team works. Here are three examples:
Team-building exercise - this is a classic activity that involves a group of people working together to achieve a common goal. As the name suggests, it helps build trust among the members of your team and increases their sense of camaraderie.
Problem-solving exercises - these activities involve working towards solving certain problems within an allotted time frame (say 30 minutes). They're great because they allow everyone on your team to get involved in solving issues related directly or indirectly to their day-to-day work responsibilities.
Creative exercises - these involve using creativity to solve problems. They're great because they allow your team members to use their imaginations and think outside the box. Creative exercises can also help you brainstorm new ideas for upcoming projects and initiatives.
What Are The Best Team Building Activities For 2 Hours?
The best way to plan a team building activity in two hours is to start with the end in mind. If you want your team to be more cohesive, then their goal must be clear and well-defined. If you need them to work better together as a unit, then make sure they know why this is important for the company or organization as a whole.
Here are three ideas for a two hour team building activities:
Office Olympics: Set up a series of mini-games and challenges that your team can play virtually or in a hybrid setting. This activity promotes teamwork, creativity, and communication, and can be completed in around two hours.
Charity Challenge: Partner with a local charity and have teams compete to see who can raise the most funds or complete the most service hours in two hours.
Photo Scavenger Hunt: Create a list of items or scenarios for teams to photograph within a set amount of time, such as a selfie with a stranger in front of a city landmark, or have them make a picture of themselves at home recreating iconic statues like the Statue of Liberty.
What Is A Fun Group Activity?
A fun virtual group activity is an engaging and interactive experience that brings people together online enjoyably and memorably. It can be anything from a virtual cooking class or a games night to a virtual party or a DIY workshop. The key element is that it is a group activity that promotes interaction and teamwork while creating a positive and uplifting atmosphere.

7 Team Building Activities To Unify Your Team
✍ Group Storytelling
Have each team member contribute to a story. Start with a sentence or a paragraph and then have each person add to it. The story can go in any direction, and it's a great way to encourage creativity, collaboration, and active listening. This can be done async or in an in-person setting.
🧠 Escape Room
Take your team to an escape room, where you'll work together to solve a series of puzzles and riddles to escape the room. You can book virtual escape games with services like The Escape Game.
🧘 Mindfulness Exercise
Start your team-building session with a mindfulness exercise. This could include guided meditation, yoga, or breathing exercises. It's a great way to encourage relaxation, focus, and team bonding. Try out services like Headspace or Calm For Business.
🧩 Group Puzzle
Give your team a challenging puzzle to solve together. This could be a jigsaw puzzle, a crossword, or a sudoku. It's a great way to encourage problem-solving, collaboration, and communication. You can solve puzzles online with Google Art & Culture Puzzle Party.
🎖️ Team-Building Olympics
Organize a team-building Olympics where different teams compete in various challenges, like an egg and spoon race. If you need inspiration for organizing a Virtual Office Olympics event, check out this article by Forbes.com.
🖼️ Virtual Museum Tour
Take your team on a virtual museum tour, where you explore different exhibitions and galleries together. You can use online museum platforms like Google Arts & Culture. This is a great way to encourage learning, creativity, and curiosity, while also giving your team a chance to experience something new.
🧊 Icebreakers & Quizzes
When you're on a tight schedule and don't have the time to plan and research activities it's always great to have a service that does the heavy lifting for you. With our Doozy Quizzes and Icebreakers, you can fully automate your team building activities and will receive maximum results with little effort!
The Power Of Unity In The Workplace
Team building activities are a great way to improve teamwork, productivity, and the overall success of your company. Whether you're new on the job or have been working at your company for years, team building activities will help you get to know your co-workers better, create bonds between people who might not otherwise talk much with each other, and make sure everyone is pulling their weight when it comes to getting things done.
Team building activities can be done anywhere, in the office (if there's space), outside at an off-site location, or online. Now that you know the power of unity in the workplace, it's time to start thinking about how you can use these activities to improve your team. 

Don't miss out on the opportunity to discover Doozy's Team Celebrations, which allows you to celebrate your team's birthdays and work anniversaries directly in Slack. Give it a try today!
Author
Jesse K.
Jesse helps companies working remotely create a social connection by providing trending topics & inspiration via remotenactive.com