InVision's top tips for building a great remote team culture
Published: 7th October 2021
Since its inception in 2011, InVision has been fully remote. With a mission to bring design-driven innovation to every organization, InVision employees, (aka InVisioners) are designing a collaboration platform that inspires solutions to make their team, communities, and the world better. And as a 100% remote-first company, their culture, employee experiences, and award-winning perks are guided by a set principles that ensure they remain committed to fostering a community where everyone feels welcome, seen, and heard as they are—enabling them to better serve their customers and communities. 
So how does one of the top design platforms create an environment where people can show up to do their best work? And how have they managed to foster a remote working culture with employees in more than 25 countries? 
Doozy spoke to Tam Hanlon, Diversity and Employee Experience Manager, and Eliz D'Agostin, Senior Enterprise Customer Success Manager at InVision, to hear some of their top tips for building an authentic, collaborative, and fun culture.
Here are their top tips:
1. Live your principles
There are some immediately obvious common bonds that make us all "InVisioners," but there are also some traits we share that only become apparent over time as we design and grow InVision. The principles we live by, such as Humility, Candor with Compassion, Customer Empathy, Design-Driven, and Intelligent Urgency, remind us not only of who we are but also of what we aspire to be better at. Truly living our principles is what brings us together as a global community.
2. Trust
InVision is a place where there is a strong sense of belonging. A place where we feel trusted to make anything possible, and it's this trust that enables us to design our work around our lives. Before Covid, InVision knew that trusting teams to author our days so we could balance work, while making time for those relationships that matter most—friends, family, and loved ones—was one of the most important ways they could empower employees.
3. Company-wide perks should mean worldwide perks
All of InVision's award-winning benefits and perks are designed to support and celebrate our global workforce. Our monthly allowance empowers us to celebrate living our best remote life, whatever that looks like to us. You can grab your favourite coffee, snacks, or lunch; take a trip to the spa, salon, or barbershop; get support with house cleaning; or even use it for your groceries. InVision's perks also help us to connect to the things that matter to us, for example "Go-Giving," which is a program where InVision matches whatever we donate to our favourite charities.
Tam: "One of my favourite perks is our unlimited time off. I really value the ability to disconnect at times that matter to me and my family." 
Eliz: "I love our headspace subscription and how we use Bonusly to incentivise rewarding and giving back to colleagues." 
4. Design safe spaces
Humility is one of our InVision company principles, and we believe it is the most noble of all human character traits. This allows us to be open to true collaboration, respect and encourage diversity of perspective, lead and act with empathy.
This shows up in multiple ways:
Through our empathy panels, where employees from different backgrounds, cultures and communities share personal experiences to strengthen our collective commitment to becoming a more diverse, equitable, and inclusive organization
Through our ERGs (employee resource groups), where we create safe spaces for individuals to connect on a personal as well as a professional level 
Through our managers, who take the time to show care to all their employees in ways that matter to them.
5. Redesign engagement
We believe that employee engagement is more than social events, it's the everyday moments you experience with your colleagues, your manager, and the company. And as a remote organisation we have to get creative and bring our design-driven principles to life by continuously iterating and fostering a feedback culture. An example of how we use our products to bring this to life is in the initiatives led by our InVision 'People Team,' who build fantastic activities, such as Zoom-based treasure hunts, designed to create connection, community, help us learn about our teams and more importantly have fun! Check out a sneak peek below into this unique type of company-wide event!
6. Get creative with existing tools
InVision uses one of their own products, Freehand, for fun as well as work. Designed as a digital whiteboard for both live and offline collaboration (e.g. brainstorming, workshopping, journey mapping), it's also used by teammates to play bingo during calls and Pictionary in a tea break. And that treasure hunt…? That was also based in Freehand. It works as a great event and collaborative game space.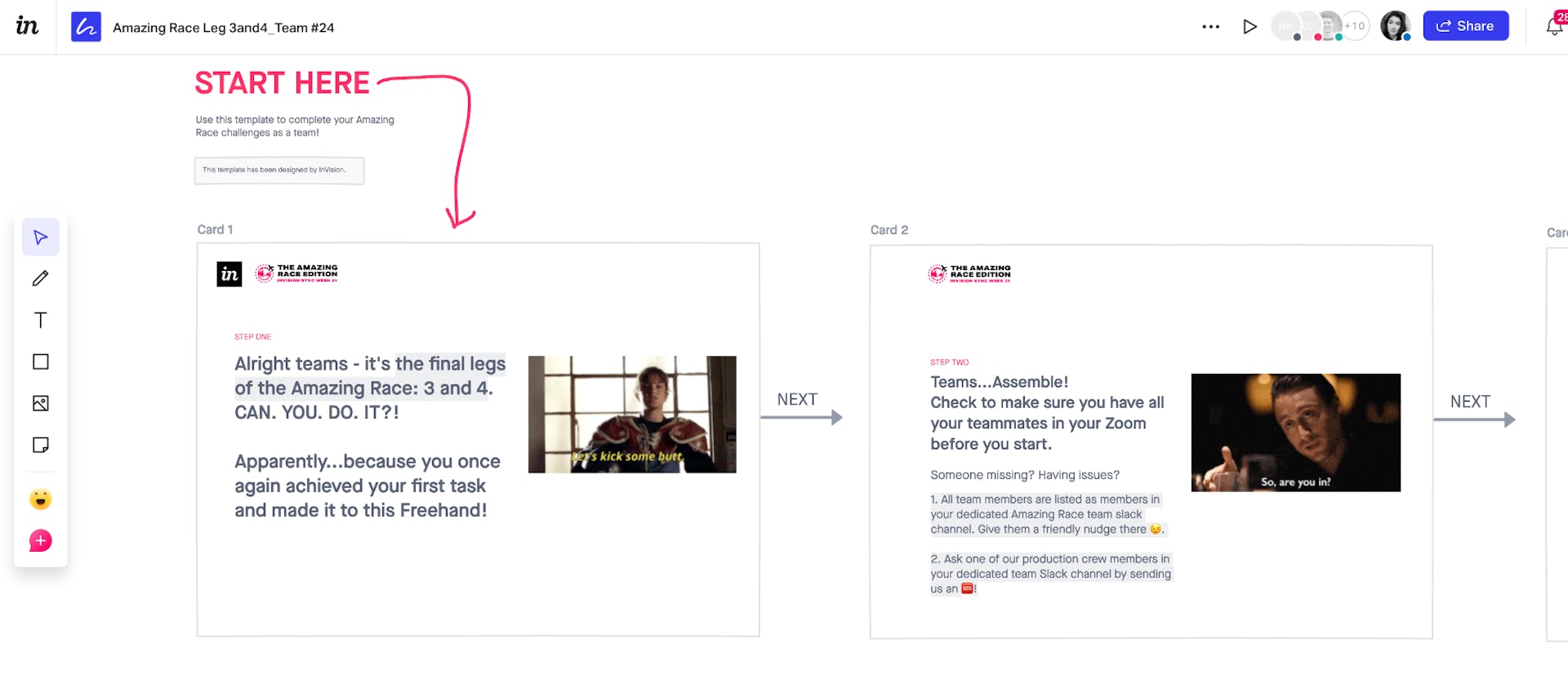 So there you have it, some incredible tips to help your team design a people-centric, fully remote organization. If you're looking for more tips, be sure to check out the InVision blog, which is a goldmine of great information on remote work. 
And if you're looking for new ways to bring your team together for some remote social fun, then check out Doozy!