12 Fun Slack Games For Remote Team Building
Published: 21st September 2022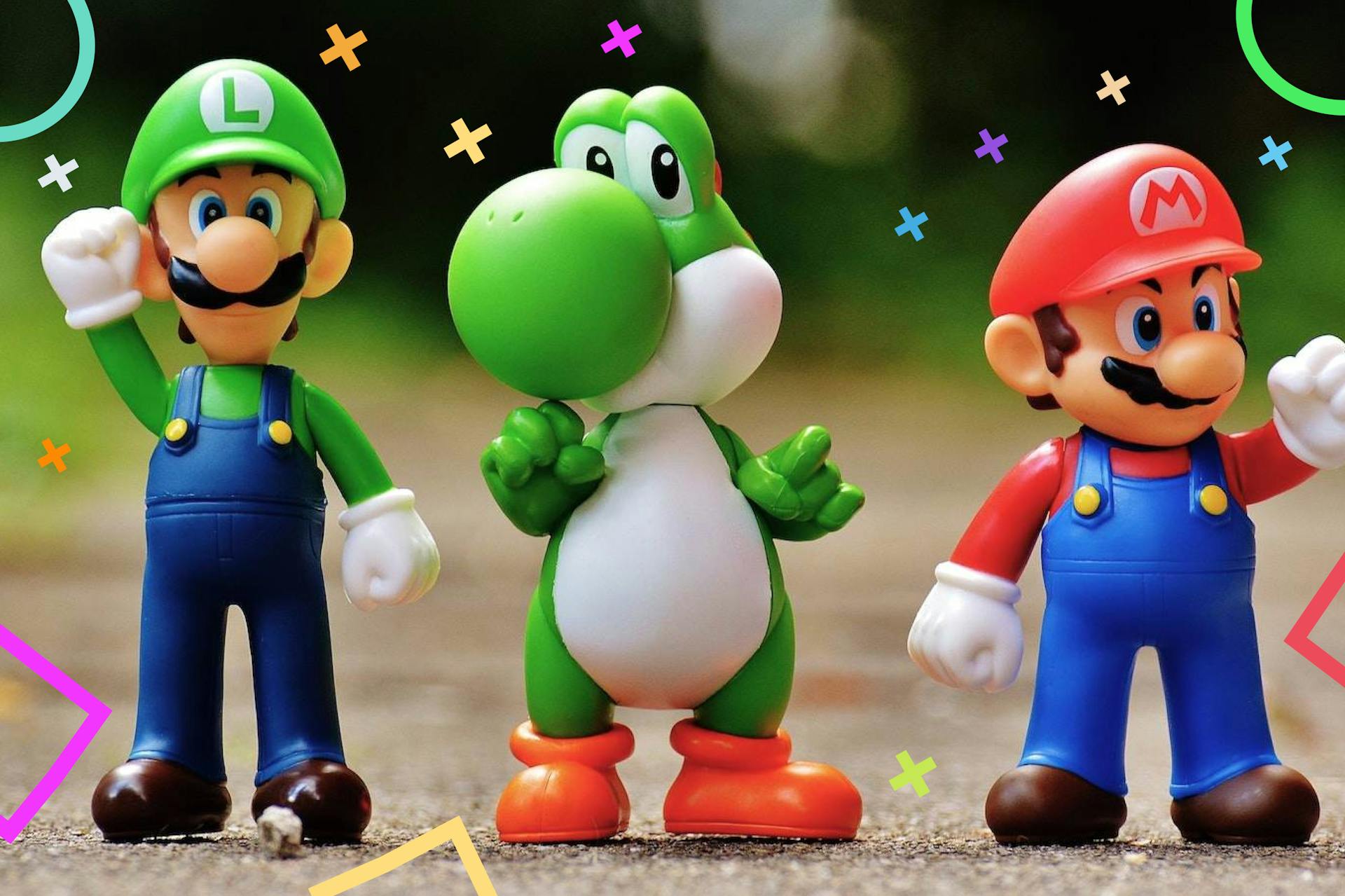 Slack is a great tool for remote teams and it has many features that make it easy to use. Most of us have used Slack for work, but did you know that you can now play games in Slack with your team too?
We've rounded up our favorite fun Slack games below so you can give them a try today. There's no reason why you should feel alone all day when there are so many ways to stay connected and have fun from wherever you work.
Work + Play = A Remote Team's Best Friend
In case you are questioning games in a professional environment, we looked at the scientific side of this in our article on why psychologists recommend playing games as a team. 
With the right tools, games on Slack can be used to strengthen your team bond and increase communication between co-workers. We suggest you try out different kinds of Slack games that can be played by a large group or just a few people at once.
Choosing The Best Slack Games For Your Team
Once you have a few ideas, it's time to start testing the games out. The first thing you should do is make sure that the Slack game is appropriate for your team and company culture. Some of these Slack games are more fun than others, so pick some that everyone can get into. 
Here are some questions to ask yourself:
How is the general vibe on the team? Are they likely to find some of the fun and joke elements in the Slack game offensive? Is there anything else, in particular, that might be off-limits in our workplace (such as politics), or would cause people to feel uncomfortable?
What are their interests? Do any of them share similar interests with one another and enjoy competing against each other, or does anyone hate playing games because they're not good at them?
Are there any past or upcoming special occasions? Has the team had a big fail or win that can be used to either cheer up everyone or take the celebration one step further?
11 Fun Games To Play On Slack
We've hand-picked a collection of the best and most fun Slack games that you can play today.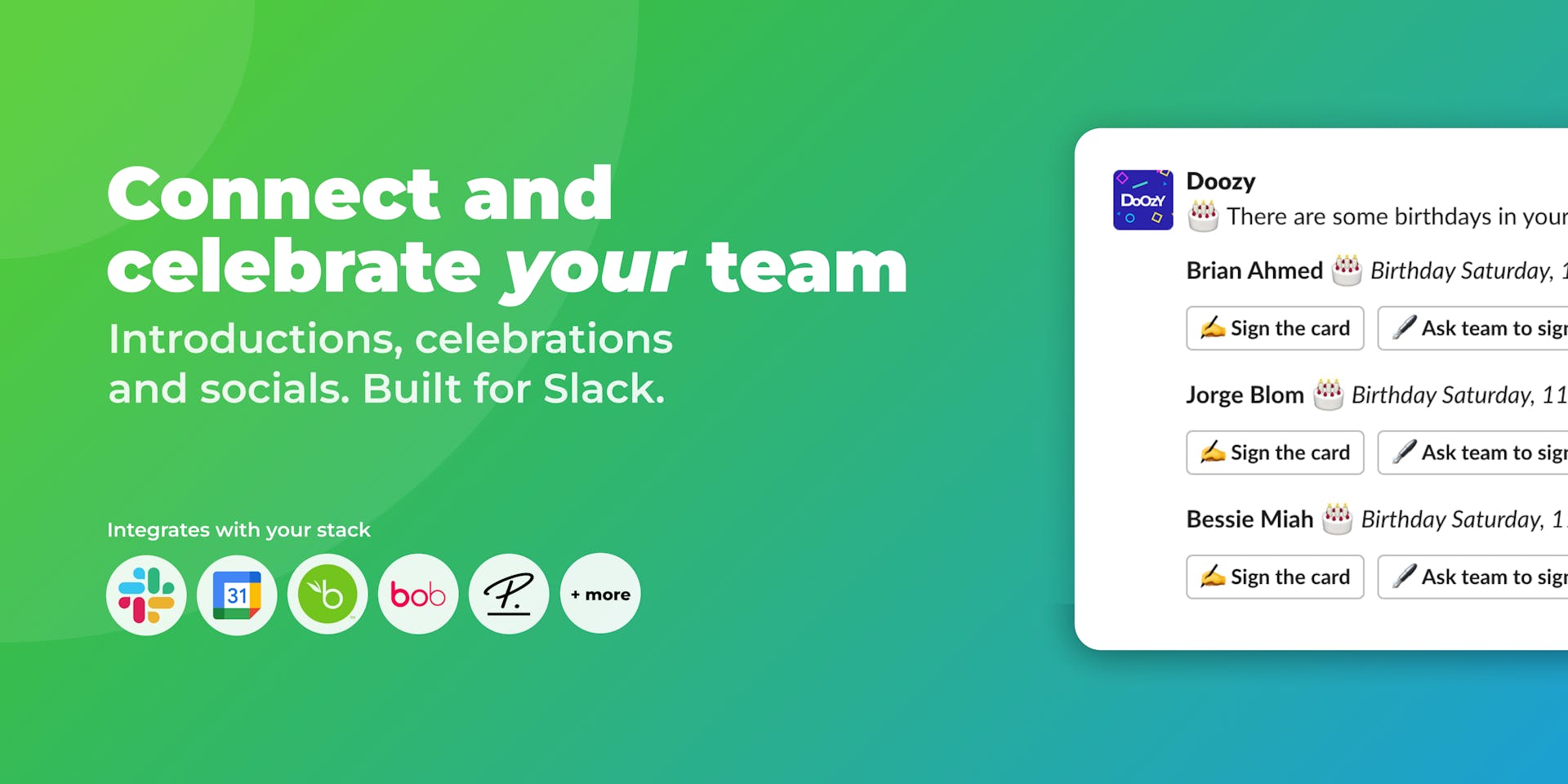 Yep, that's us! We've got daily trivia and icebreakers, along with birthday celebrations, automatic introductions and team socials. All at your fingertips in Slack!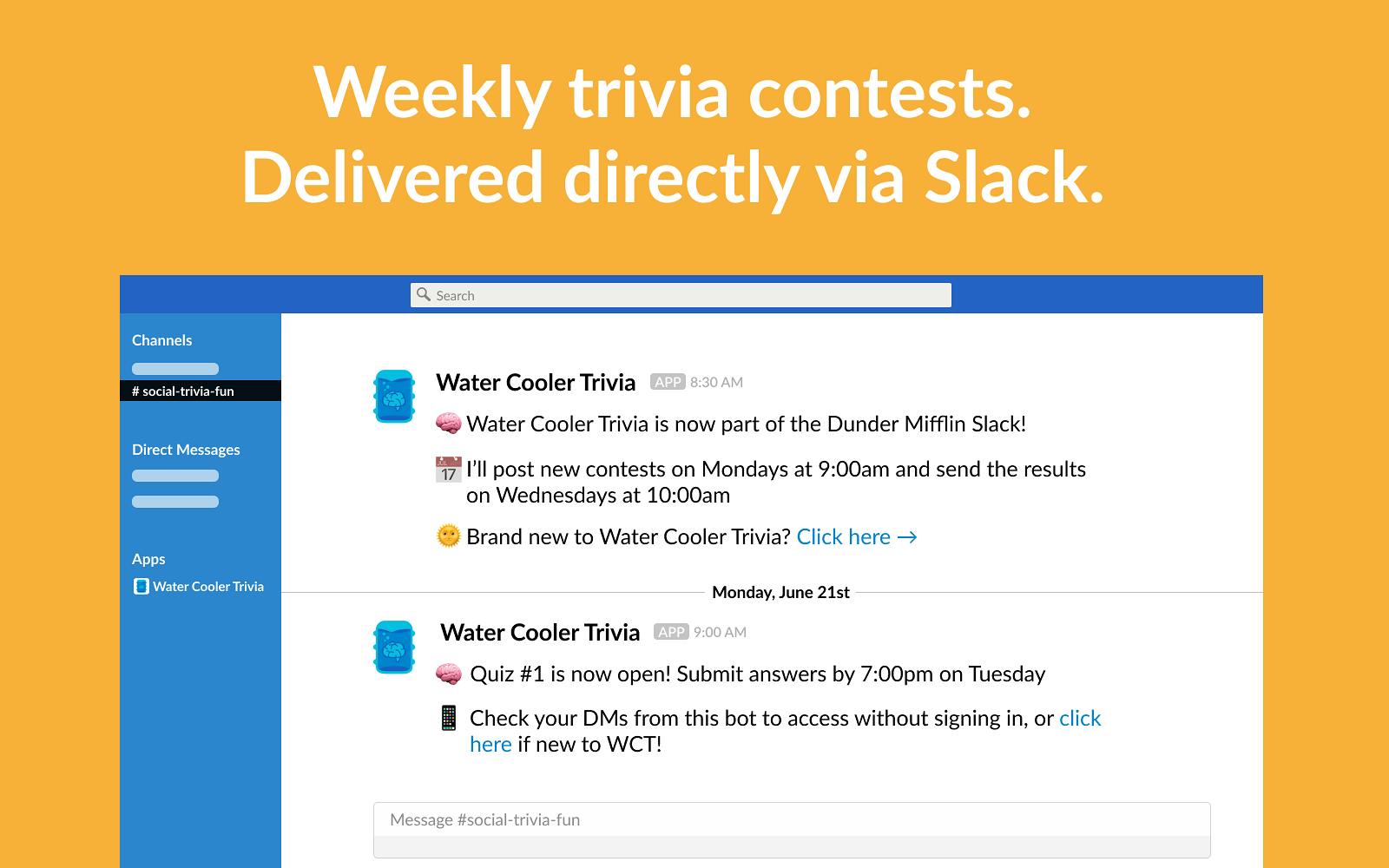 This Slack App lets you and your team play weekly trivia together.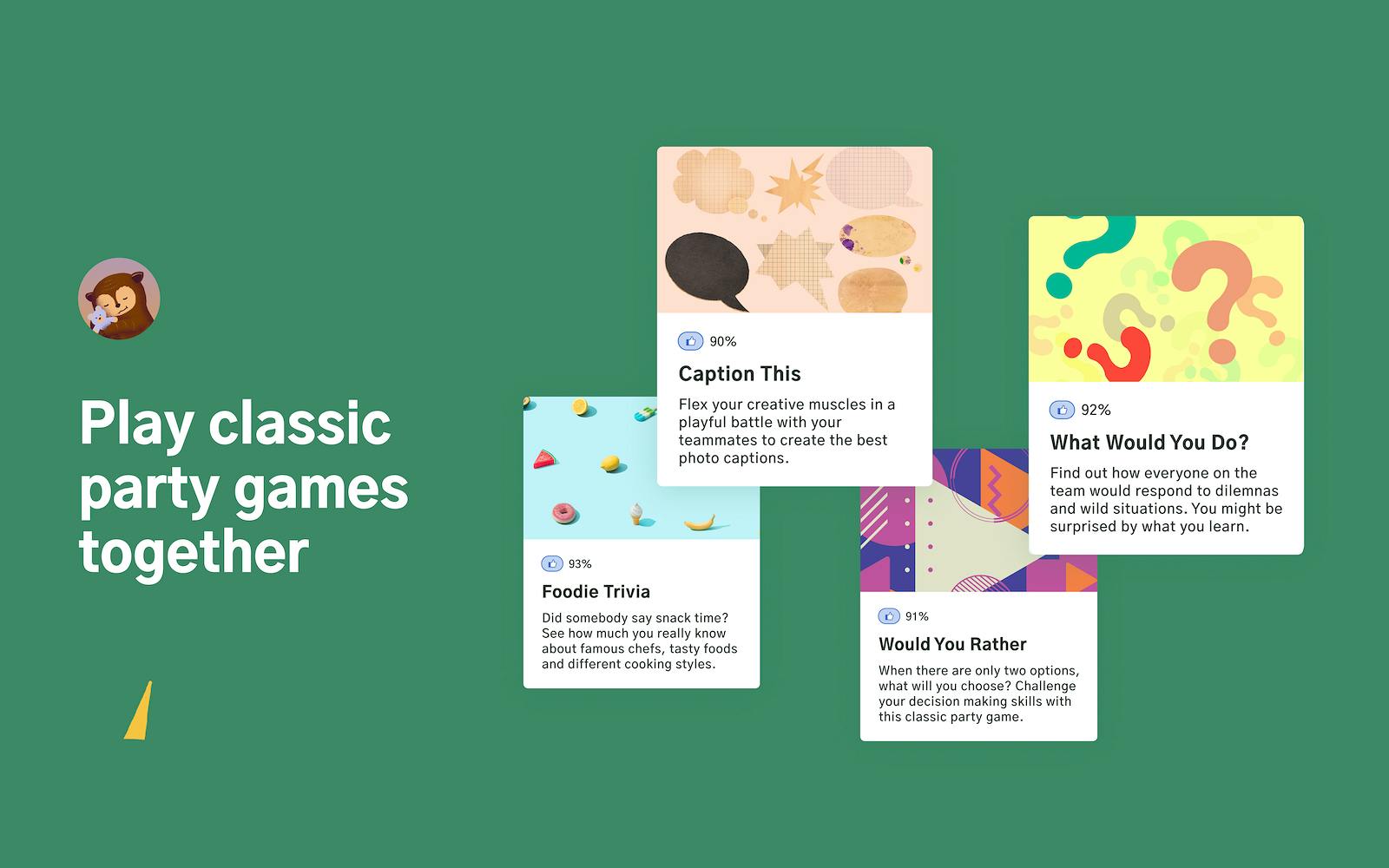 Here, you can play classic games like Trivia, Caption This, and Would You Rather together on Slack.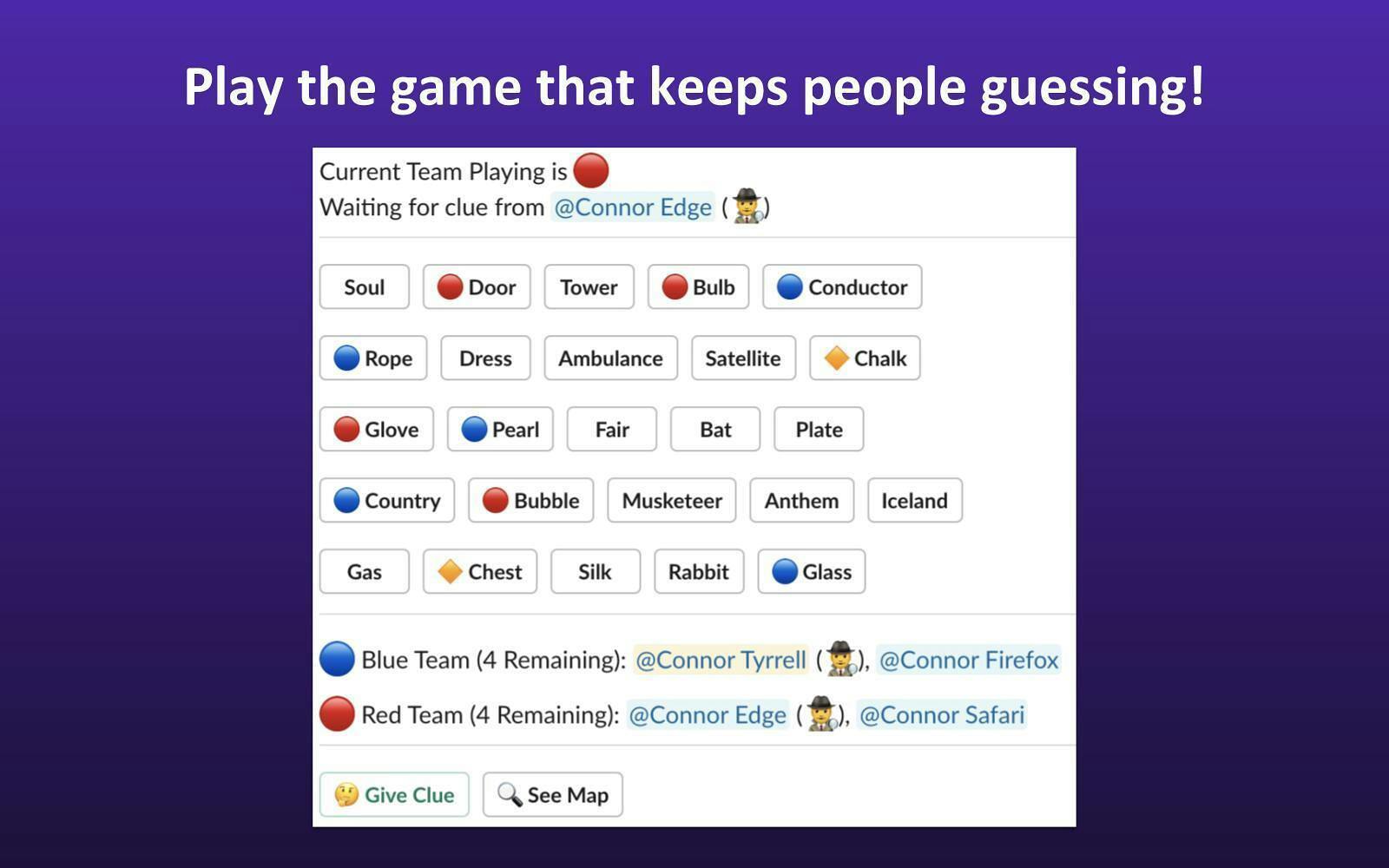 This is an interactive chat game where you play the "code name" game with your team.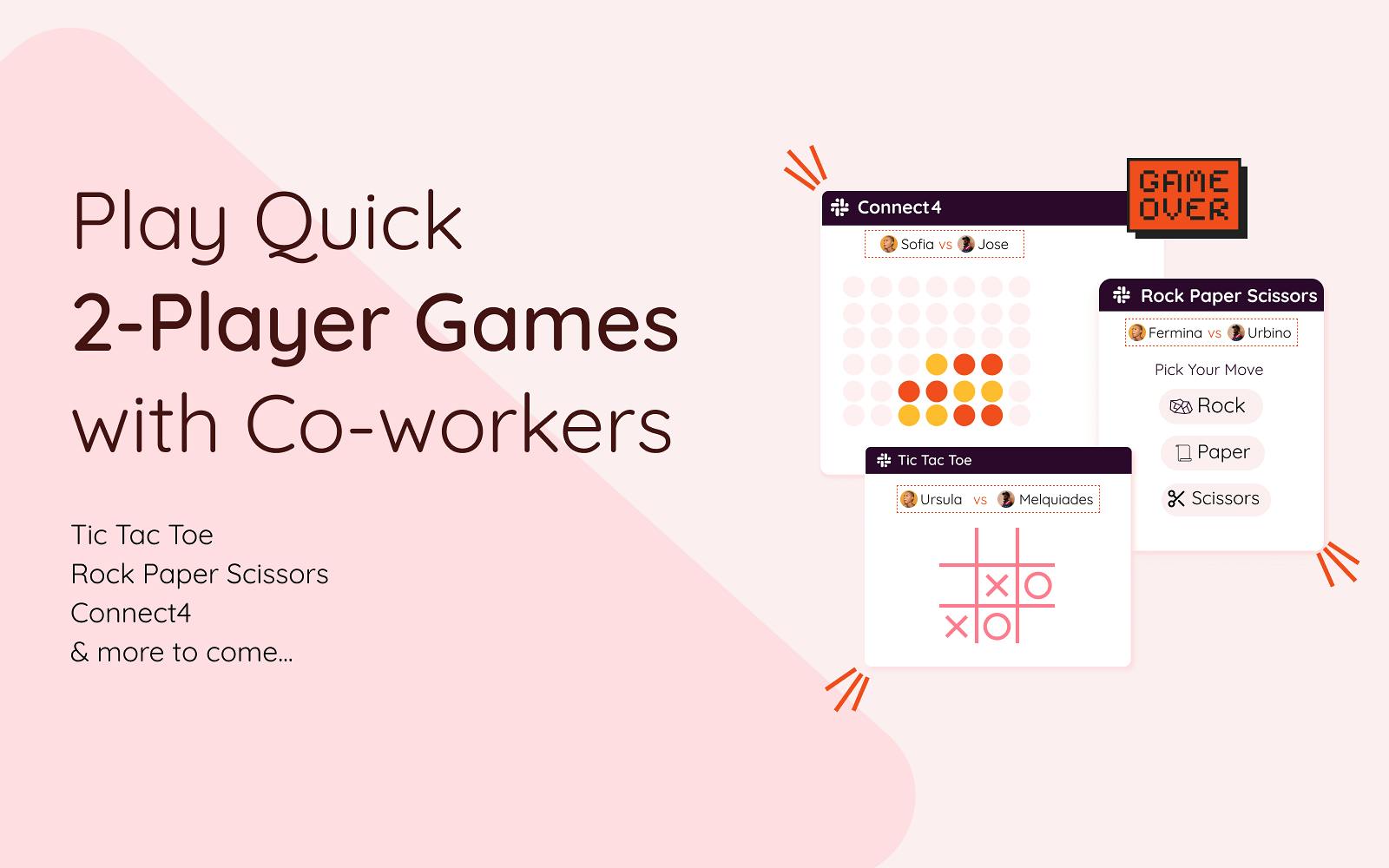 This Slack App allows you to play various games like rock paper scissors, and trivia.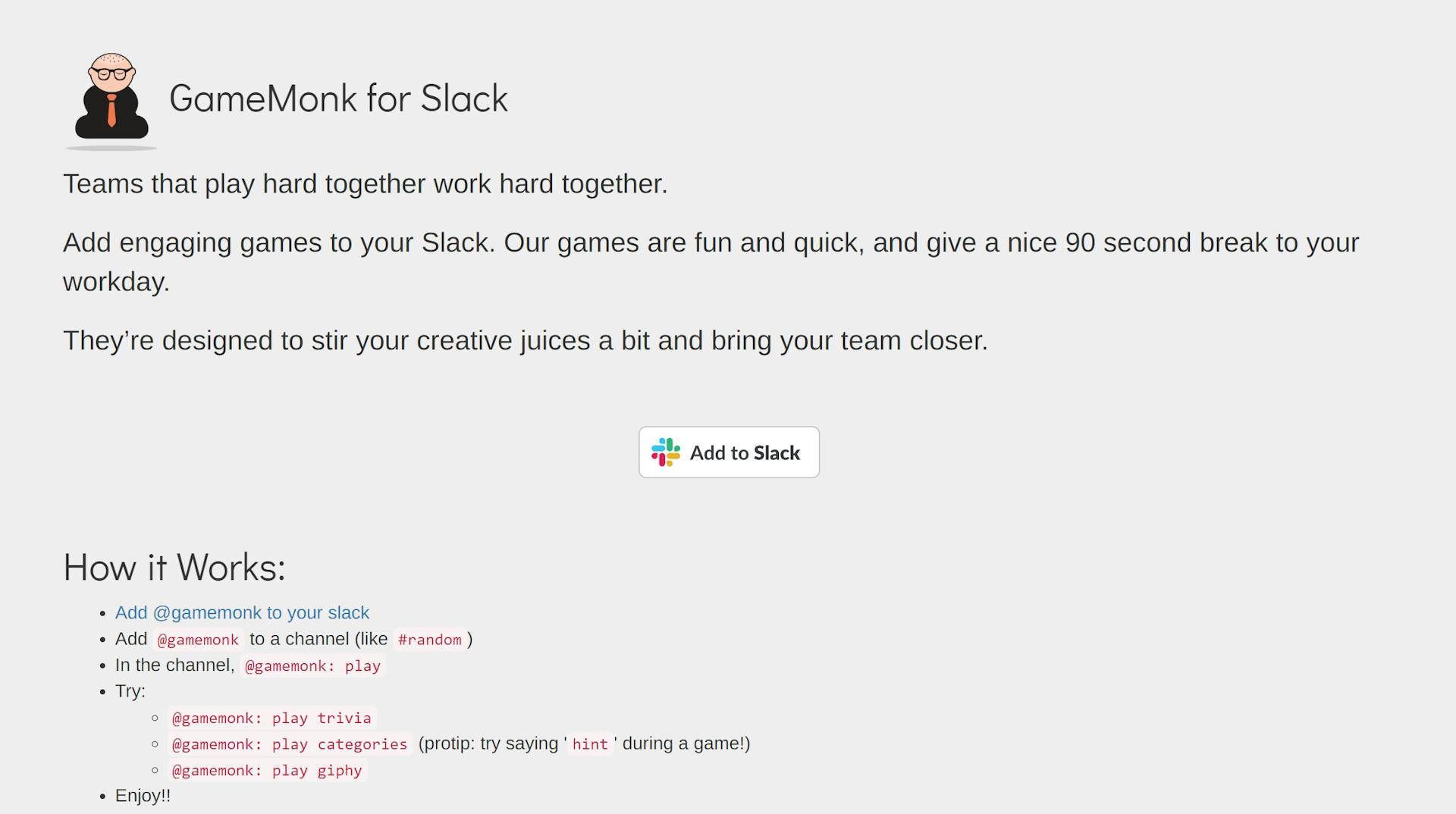 The Slack App GameMonk has 3 types of games that you can play
Categories - In 60 seconds name as many categories from a given list as you can
Giphy - You see a GIF and have to guess the hashtags 
Trivia- Quizzes and trivia questions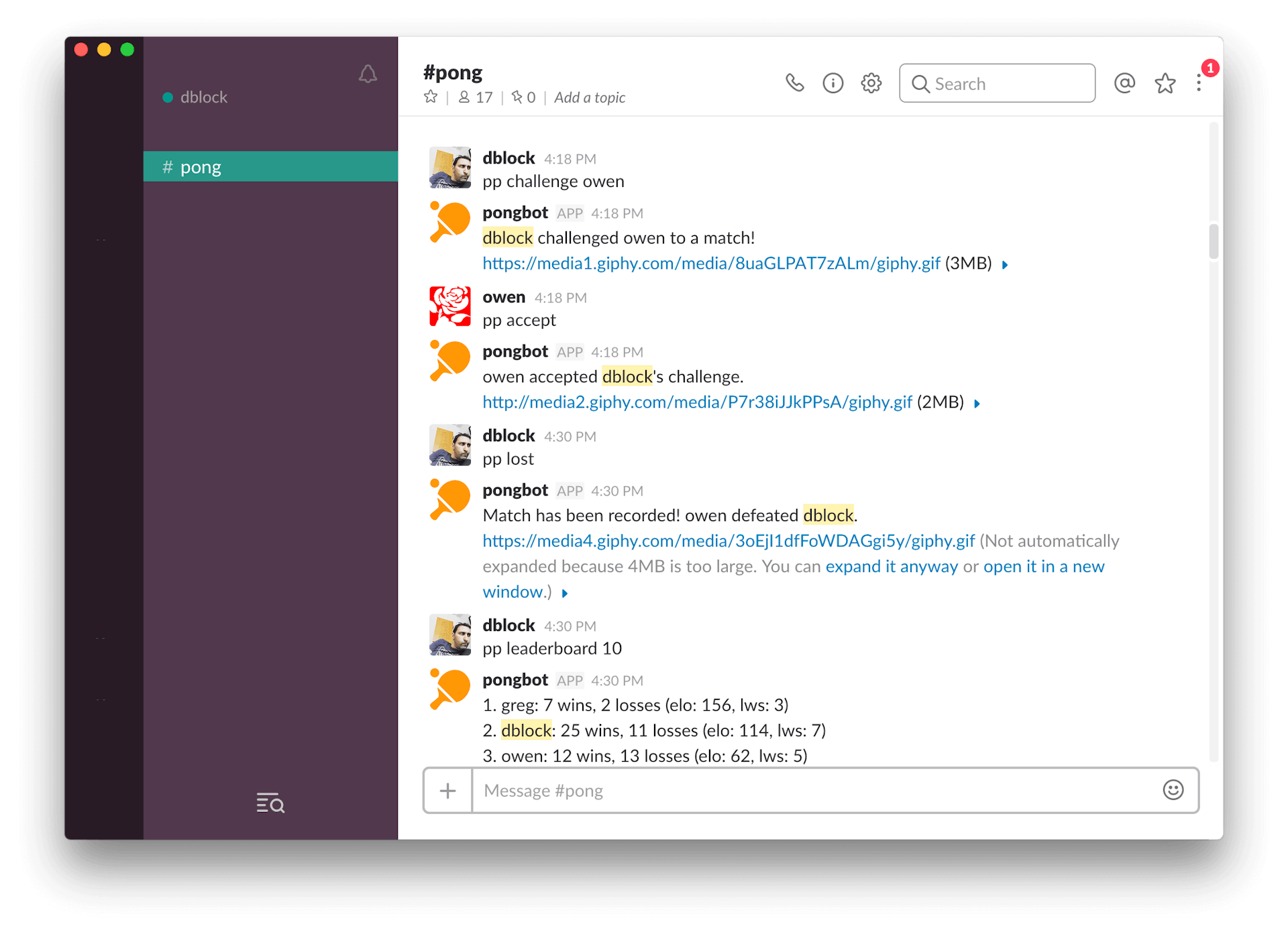 This Slack app is a game record tracker bot for pong, chess, pool, and tic-tac-toe that lets you challenge your teammates and then keeps records with a leaderboard in Slack.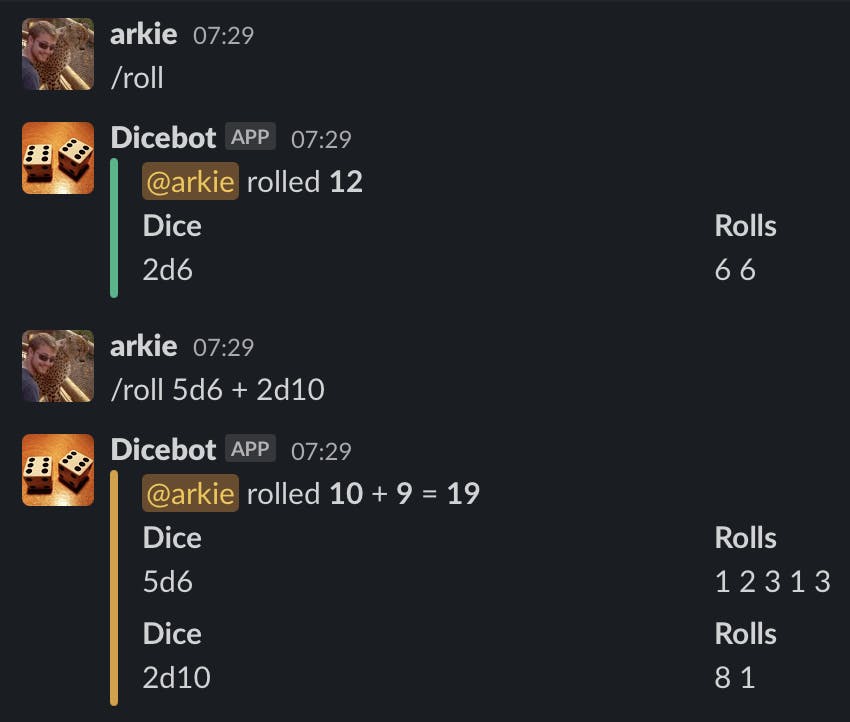 Play simple and fast dice games with this fun Slack game.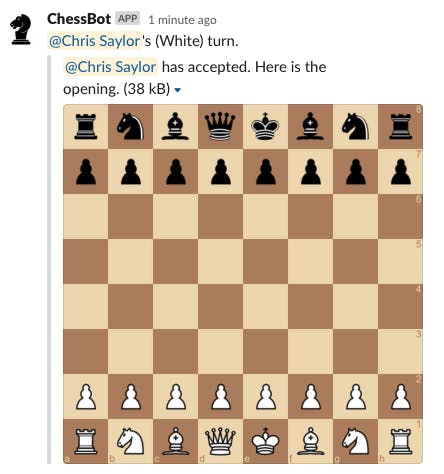 A fun Slack game to play chess with your work buddies without leaving Slack.
Gamify your team's music by turning your Slack channel into an interactive jukebox. Here you can add tracks directly from Spotify.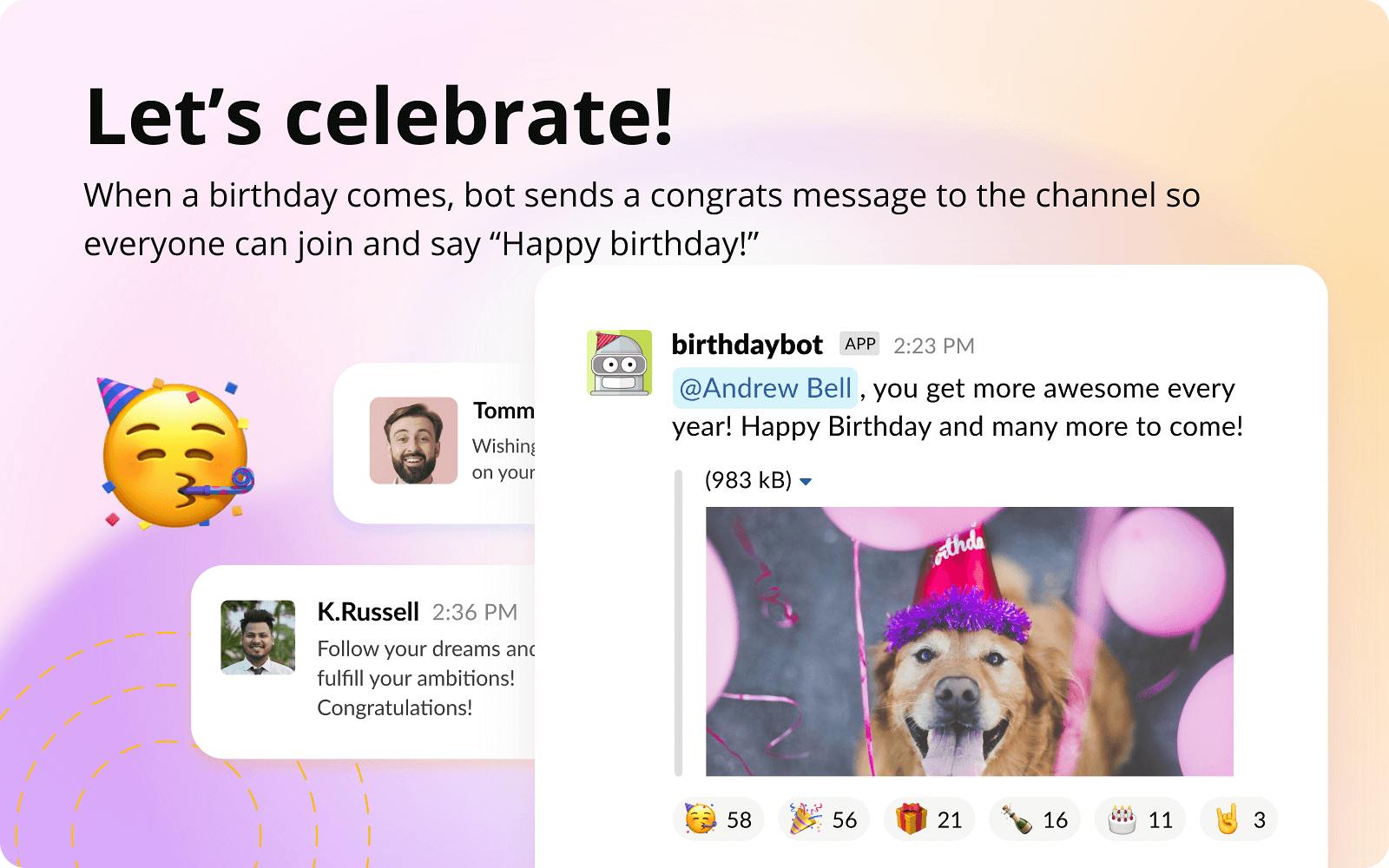 Never forget an anniversary with this Slack App that reminds you to celebrate these precious days.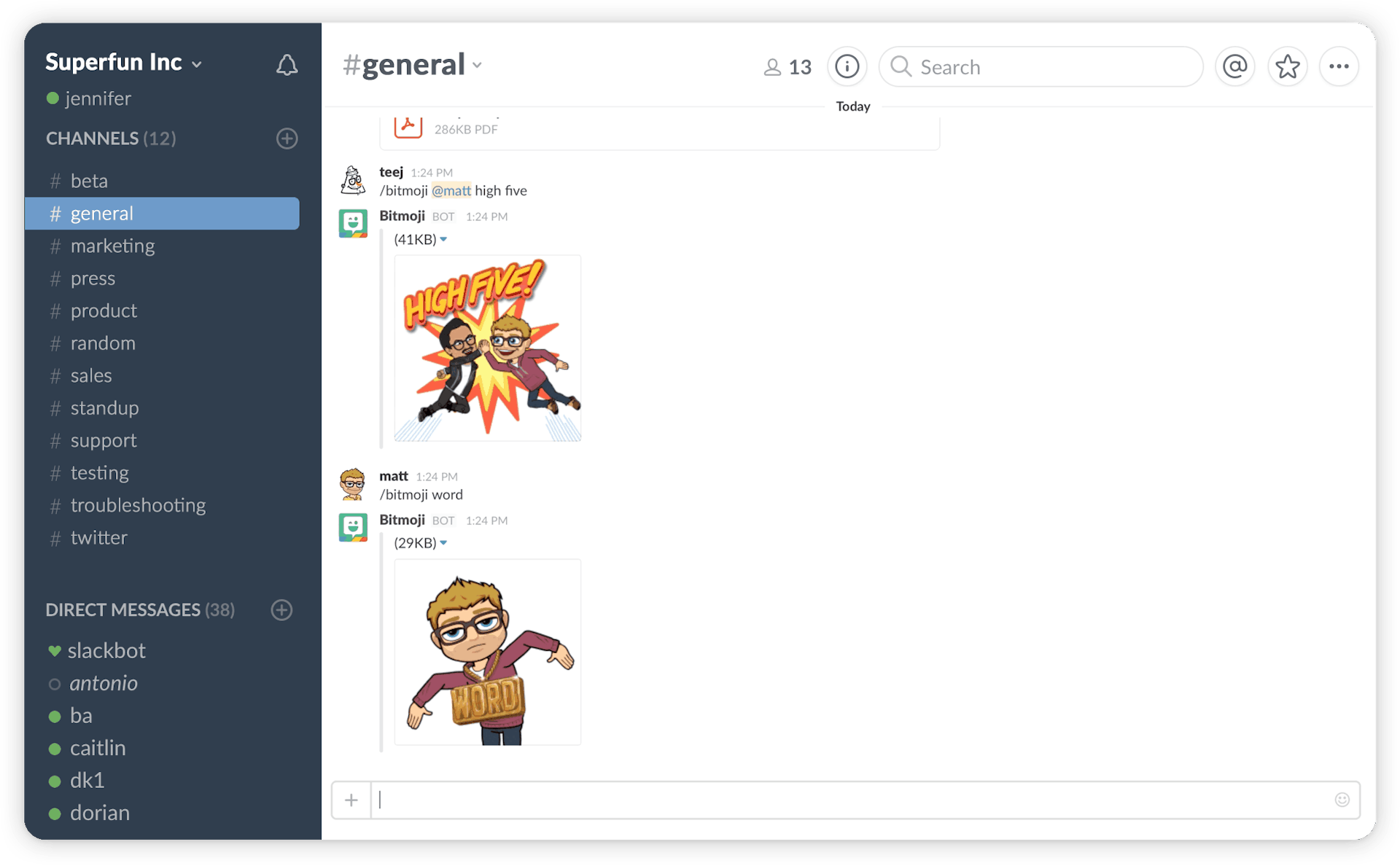 Not directly a game, but you can gamify and make your Slack communication more playful by introducing your Bitmoji avatar.
Use Fun Slack Ggames To Celebrate Wins, Recognize Team Members, And Have Fun
Slack games are a great way to celebrate wins, recognize team members, and have fun in your Slack chat. They're also a great way to get people to talk and interact with ease. 
If you have a new employee on your team, it's vital to integrate them in a friendly and welcoming manner. You can even use games as icebreakers during meetings if you need help getting things started—just make sure that anyone who doesn't want to participate won't be forced into doing so.
It's Easy And Fun To Set Up A Range Of Games On Slack For Your Whole Team
Slack games are a great way to build rapport and trust with your team. They can be used to celebrate wins, recognize team members and have fun.
Games in Slack can also be a great tool for building a sense of belonging and community that is integral to the success of any remote work culture. 
Author
Jesse K.
Jesse helps companies working remotely create a social connection by providing trending topics & inspiration via remotenactive.com