How to create engaging team meetings that you and your team will love
Published: 8th July 2022
People often think of meetings as the time to review progress, discuss challenges, and debate where you're heading. And that's true, a good meeting can help your team stay on track and get the answers they need. 
But good team meetings are also an easy way to improve team engagement, and there are countless ways to do this.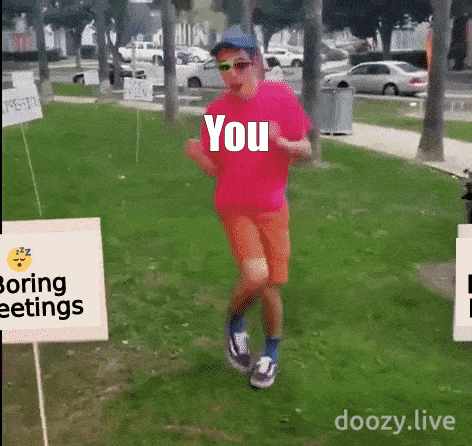 Mixing up your meeting format is a simple way to ensure people aren't tuning out, but finding new ideas for activities can be hard. 
We've put together some suggestions for how you can spice up your next virtual get-together with some fun activities that will keep everyone engaged and even build some trust.
Let us not waste any precious time and get things going.
How Can I Make Online Team Meetings More Fun?
There are many angles to approach this question, but the fastest and easiest way is to simply start off your meetings with icebreakers.
This sets the tone for the whole group and eases up the atmosphere, which is especially important if you have some serious topics to deal with.
Here are 5 more things you can do to make your meetings more engaging:
Use GIFs, memes and jokes that relate to the topic of discussion
Play games or activities that help create a more relaxed atmosphere and get people talking about topics unrelated to work
Show video-based content like a clip from a TV show or movie (for example, something relevant to a task your team is about to do)
Use polls which will allow you to collect responses on any topic during your meeting. The advantage here is that this allows you to get real-time feedback from everyone at once rather than having them speak one at a time—but it does mean sacrificing some control over the conversation.
Now that you know how to make your online team meetings more fun, how about stepping up a notch?
How Do You Spice Up Team Meetings?
In order to spice up team meetings, you want to take a broader approach by looking at the activities. 
Here are 2 examples.
1. Do team building activities that are actually fun
This can be anything from an interactive short round of a game like scribbl to team building exercises that require cooperation and collaboration like making the perfect burger together. The most important thing is that it's enjoyable for everyone involved, so make sure the activity chosen is something no one will dread taking part in. 
2. End your meeting on a good note
Meetings can often be really tough to get through, and the energy level drops at the end. Which is why you can lift the spirit before saying goodbye by ending each meeting with a short but fun online team quiz, like our Quiz on Clickbait and Internet Culture.
The most important aspect of spicing up your team meeting is actually showing your team that you are caring by coming up with fresh ideas.
Now here's why it's crucial to actually care about your team meetings.
How Fun Activities Engage The Team
To put it simply: engaged employees are good for you and your business. This means being a manager or leader who encourages new approaches and different ways of experimentation, as well as having a team that supports each other in taking on different roles. Try to always encourage participation by asking questions that call on every member of the group equally. These questions may be answered in a group video call, but can also be sent via direct messages, or the already mentioned polls–which can be set to gather anonymous feedback.
This ensures that the steps you are taking are going in the right direction, and this in turn leads to an engaged team. With Doozy you do not have to go through the hustle of coming up with ideas and planning your engaging team meetings. Just create your engaging team meetings with a couple of clicks, or even use templates for team events. We've got you covered!
That's How You Make Team Meetings More Engaging!
We hope that by now you have a better idea about how to create team meetings that are both productive and fun. Team meetings are an integral part of any company's success, but they don't always have to be dull and boring. 
They can actually be engaging, exciting, and uplifting—and that's the big takeaway from the suggestions we offered today. 
Try one or all of them out next time you meet with your team (or even yourself), and let us know how it goes by tagging us on LinkedIn over at Doozyhq !
Transform your workplace socials with Doozy's Team Socials Feature on Slack - sign up for free today and experience unparalleled teamwork and engagement in your workplace!
Further Resources
Photo Credit
Author
Jesse K.
Jesse helps companies working remotely create a social connection by providing trending topics & inspiration via remotenactive.com