Meet the Partner: Alex (Onigo)
Published: 24th May 2021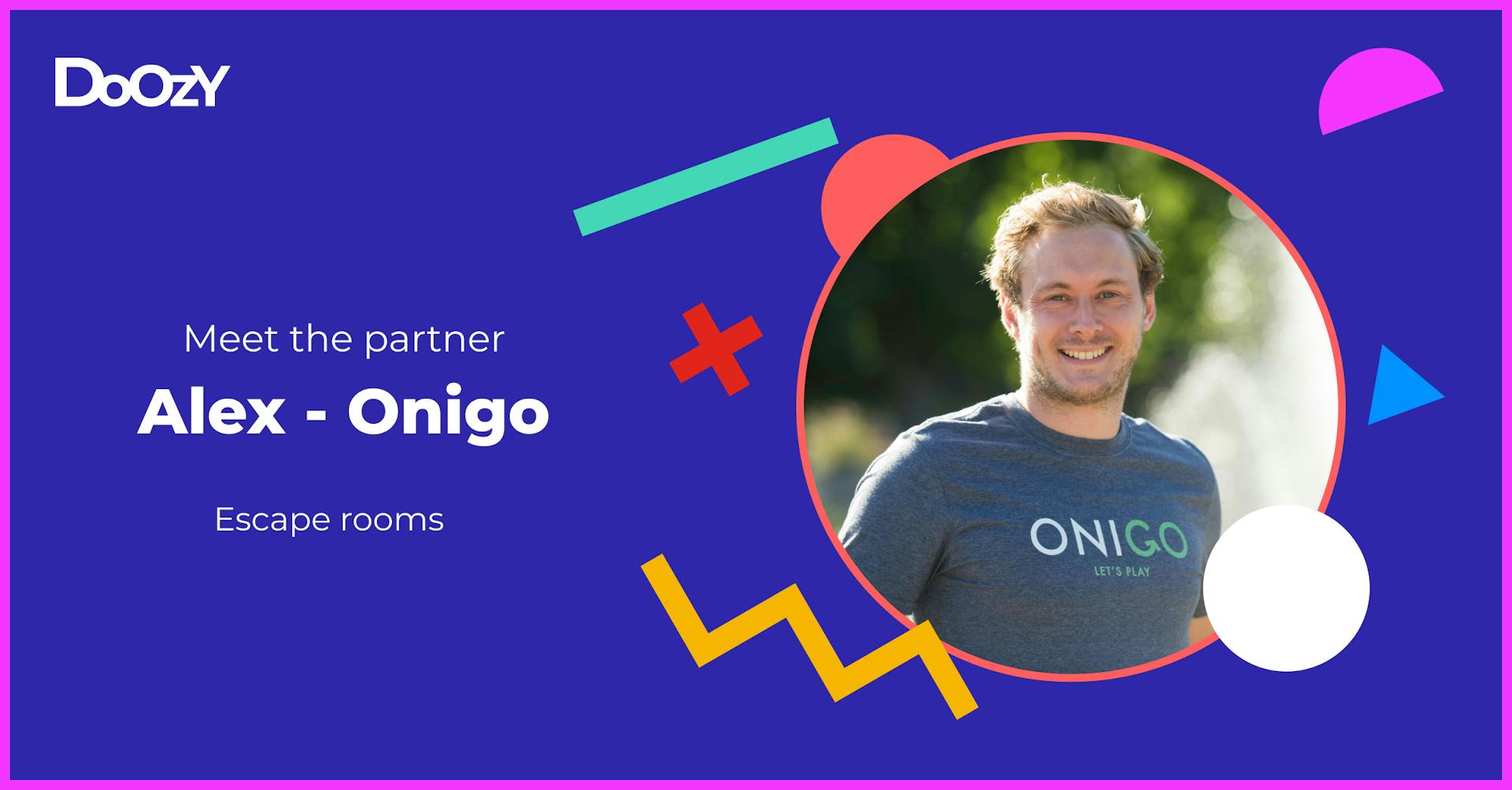 This week we're speaking to Alex, founder of Onigo. They started off providing in person escape room experiences, but have very successfully adapted to the world of virtual. You can book their awesome escape rooms through Doozy today!
For the uninitiated, can you tell us a bit about what an escape room is?

An escape room is a game in which a team of players discover clues, solve puzzles, and accomplish tasks in order to accomplish a specific goal within a specific time limit. In a physical escape room, the goal is often to escape from the physical room where the game is being played, i.e. by solving a final clue to open a door. Our virtual escape rooms feature all the same elements delivered online via our game website. However, as you can't be physically in a room together, we replicate this using private breakout rooms on our video platform. When a team solves their final clue they are able to exit the breakout room and return to the main room to see if they have been the first team to finish!
How did you get into running escape rooms?

My background is in designing and delivering live events, specifically experiences which help build stronger business teams. Escape rooms contain excellent ingredients for team building - collaboration, problem-solving, strategy, working under pressure and some light competition. Above all they are super fun and engaging, unlike some traditional and dare I say, slightly outdated, team building concepts. Therefore, those basic ingredients of an escape game became the cornerstone of Onigo experiences as we looked to design a fun and different team activity way to bring colleagues together. 
How has lockdown changed your experiences?

Prior to lockdown, we hosted live outdoor escape game events where teams embarked on a mission against the clock to find and solve and clues hidden in the real-world. As coronavirus hit, all our live events had to be cancelled and we so we went about adapting out experiences. I founded Onigo because I wanted to help boost connectedness and well-being by delivering experiences that brought people closer together. With lockdown I realised that now more than ever do people need connection, particularly amongst colleagues who are working from home. So we created a series of virtual escape rooms which enabled work teams to come together, boost morale and connect through a shared experience. We can host up to 300 people in a single event and yet the escape room is played in small teams of 4 - 8 using private breakout rooms to enable everyone to participate whilst strengthening team bonds. The escape rooms feature a series of cryptic puzzles that require finding and using some basic household items; creating a unique and interactive experience. Once a team has cracked the final code, they are returned back to the main room by the host in a big reveal moment to see who escaped first!

What do remote teams enjoy the most about your escape rooms?

Participants love the interactivity and variety of the puzzles as well as the event format which enables everyone to get fully involved whilst enjoying a bit of competition between the teams. We also consistently receive amazing feedback about event hosts who do a fantastic job engaging participants and facilitating a great experience. With this, we are really proud to be rated 'Excellent' on TrustPilot and to have delivered events to over 750 clients including the likes of Amazon, Google, Barclays, Disney, Sainsbury's, Deloitte and BMW.
Ready to jump into one of Onigo's escape rooms? Book now!