Desert Island Stacks with Lauren Gomes from Learnerbly
Published: 4th November 2022
In this series, Doozy founder Milo speaks with leaders and experts in HR & People Management to ask about their absolute essentials when stuck on a desert island. Discover the newest insights from the remote work world and get the knowledge you need to create a high-performance and happy remote culture.
This week, we talked with Lauren Gomes from Learnerbly.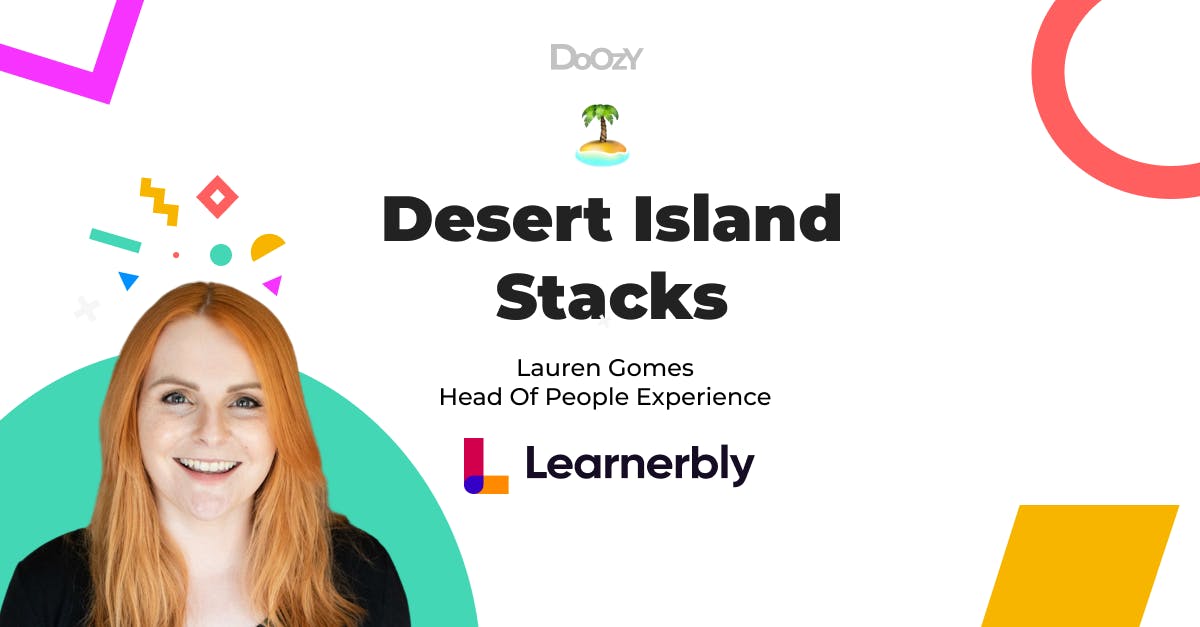 Milo: What got you into working on the People team?
Lauren: At university, my mum and auntie sat me down and asked me what I wanted to do with my life, I said I enjoy organizing. My mum couldn't wait to tell me that she'd worked in Personnel for the Bank of England before I came into the world, and maybe I'd like it too? 😅
Fast-forward to applying to my first People Admin role at ASOS.com, and the rest is history!
Milo: Talk us through each of your 5 picks, from most important to least. Why did you pick it, and why couldn't you live without it?
Lauren:
Notion - I wouldn't work in a company that doesn't use Notion again, there, I said it. It's transformed how People-people convey information, our PX Open Source community is proof of that!
Slack - I've used Teams, Skype, and even Rockit chat, no one does comms better than Slack IMO. I love the creativity and flexibility that comes with it, it's levelled the playing field for remote and cross-company working too!
Learnerbly - The only learning marketplace that puts employees in the driving seat to take ownership of their own performance. It's not enough to set learning goals, Learnerbly enables people to take action and learn in their own way. 
Leapsome - my favourite People tool, Performance, Engagement Praise, Goals - it has it all. I use it daily and my dream is that they become a HRIS too… 👀
Oliva - they provide proper mental healthcare and actual therapy for our people. To date, it's the best benefit I've implemented for the company I work for. + if I'm all alone on a desert island I'd want access to therapy right?!
Milo: What other tools do you dream about, while looking at the stars and wishing you had more credits on your card?
Lauren: Like most People-people, I dream about a tool that could combine all of the above in some way into some mega tool, wishful thinking 🥲
I get a *lot* of sales emails, LinkedIn DMs, and referrals from peers. I'm part of some wonderful Slack communities (shout out to People Stories and POPs), so I'd be surprised if I missed the next best thing out there, as word of mouth is a powerful tool.
Enhance your team's collaboration in Slack with Doozy - Matchmaking! Schedule introductions for your team members effortlessly and take your team culture to the next level. Try it now and see the difference it can make!
Author
Milo Hill
Milo is the founder and CEO of Doozy. Passionate about helping remote & hybrid teams stay connected.