Desert Island Stacks with Mikaila Read
Published: 11th November 2022
In this series, Doozy founder Milo speaks with leaders and experts in HR & People Management to ask about their absolute essentials when stuck on a desert island. Discover the newest insights from the remote work world and get the knowledge you need to create a high-performance and happy remote culture.
This week, we heard from Mikaila Read from Mezmo.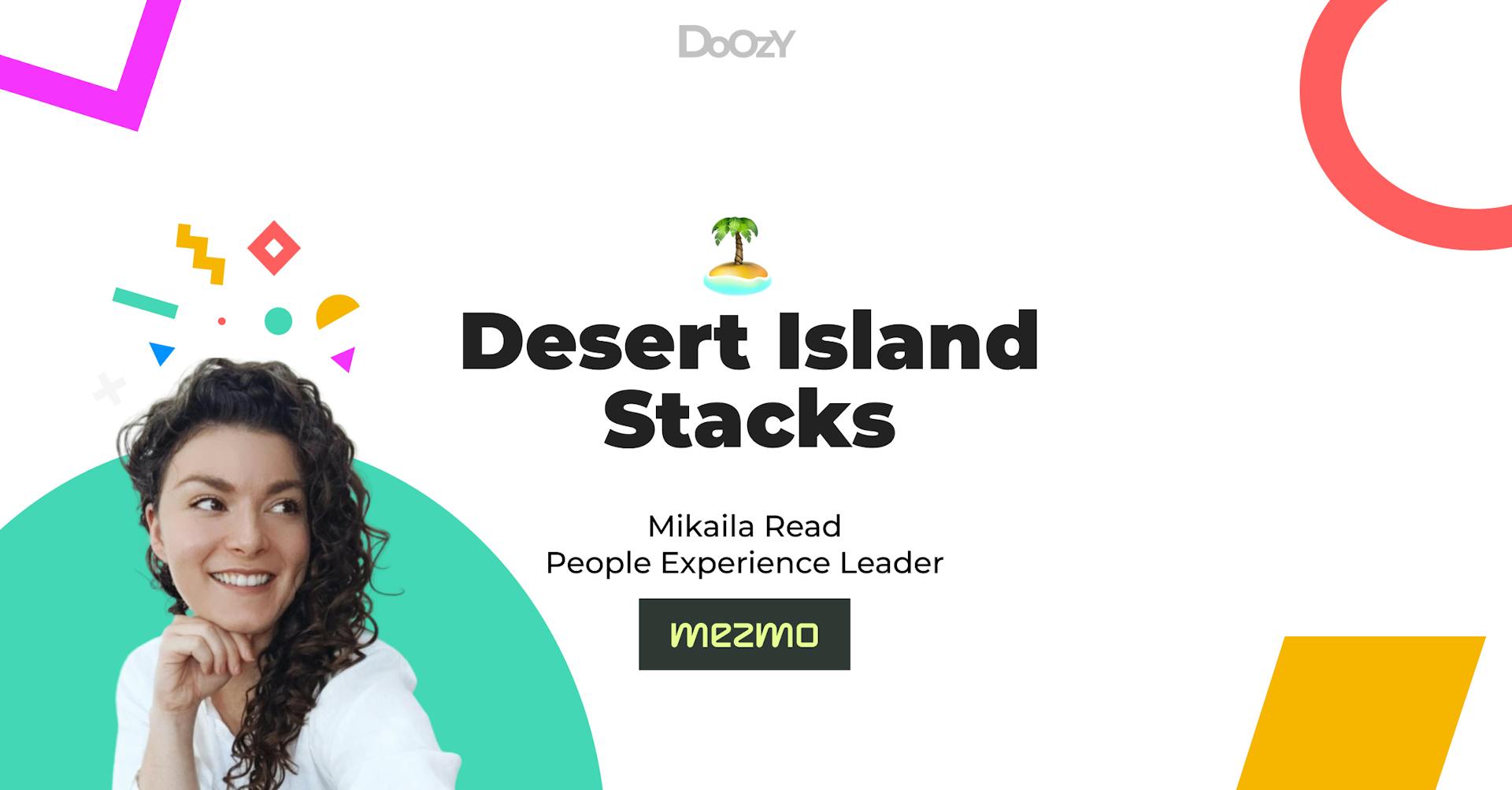 Milo: What got you into working on the People team?
Mikaila: I got into People Ops after marketing a specific HR SaaS product to People leaders. I spent most of my days understanding the challenges People professionals were up against in engaging employees, and found it all fascinating. I decided I wanted to be more on the frontline of change and become one of those People leaders myself!
Milo: Talk us through each of your 5 software picks, from most important to least. Why did you pick it, and why couldn't you live without it?
Mikaila:
Milo: What other tools do you dream about, while looking at the stars and wishing you had more credits on your card?
Mikaila:
Eduflow — If you're still onboarding employees by sharing a written handbook & meeting via Zoom, I'm sorry, but you're doing it wrong. I'm in love with how easy it is to quickly create learning experiences in Eduflow that are highly engaging, interactive, and personalized. Videos, discussion forums, polls, interactive checklists, and more – it's got everything you didn't know you need, and the use cases extend far beyond onboarding.
Oliva — I still haven't had the chance to experience Oliva first-hand, but I've read amazing things about the team and tool.
Milo: How do you stay up to date with the latest in tools, techniques, and what's new in the People space?
Mikaila: I chat with folks in the industry, and constantly read, and subscribe to different People & Culture publications.
Milo: If you could follow only one person on LinkedIn, who would it be and why?
Mikaila: Adam Grant. If you're not following Adam yet, you're missing out. As an organizational psychologist, bestselling author, and one of the world's 10 most influential management thinkers, everything he writes inspires me to think and to act. ✨ 
Elevate your team's Slack collaboration with Doozy - Matchmaking! Effortlessly schedule team member introductions and take your team culture to the next level. Try it now and witness the difference it can make!
Author
Milo Hill
Milo is the founder and CEO of Doozy. Passionate about helping remote & hybrid teams stay connected.