7 Donut For Slack Alternatives You Should Know
Published: 23rd November 2022
Slack is one of the most popular workplace communication apps. It's a convenient way to share information and interact with others.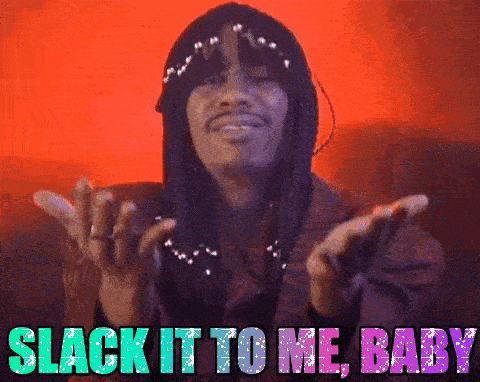 There's no denying that the standard Slack features are limited when it comes to levelling up your company communication, especially in a distributed work setup.
That's where Slack Apps come into place. A widely known Slack App for virtual team building is Donut.

Let's take a closer look at Donut for Slack and explore 7 alternatives you should consider if you want to establish a flourishing remote team culture on the shoulders of Slack, including the pros and cons of each.
What is Donut for Slack?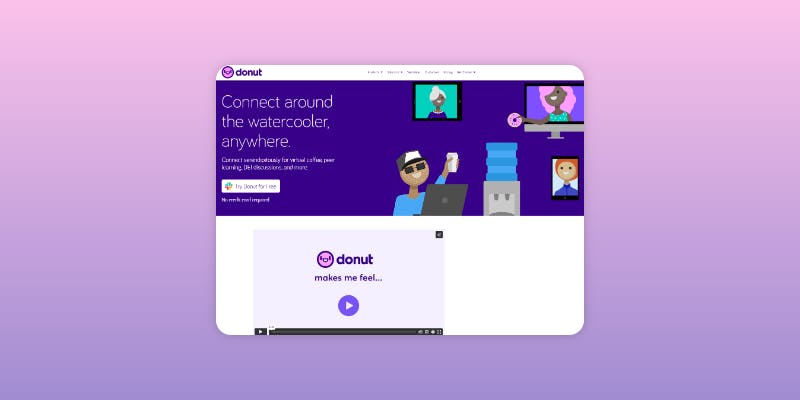 Broadly speaking, Donut for Slack is an app that helps Slack teams form better relationships by encouraging them to meet new people. The app has a limited free version and allows you to create a private channel where your team can pair up with people in a channel to virtually meet and have a chat. You can also use it to create public channels for casual communications (water cooler chats) with other people who are interested in forming good relationships with each other.
🤩 Pros
Easy to set up
A high number of users in the free trial
Focus on virtual team activities and engaging new hires
😭 Cons
EXPENSIVE!
No HRIS integrations
No video-based team socials
No customizable templates
If you want to make use of features, such as having various water cooler topics to talk about or using celebration messages for your colleagues, you will need the paid plan which starts from $59 per month on a monthly plan or $49 per month / $588 for the yearly plan. 
There are a few other Slack Apps that you can use as a Donut for Slack alternative. Here are some popular ones we have gathered for you.
7 Donut For Slack Alternatives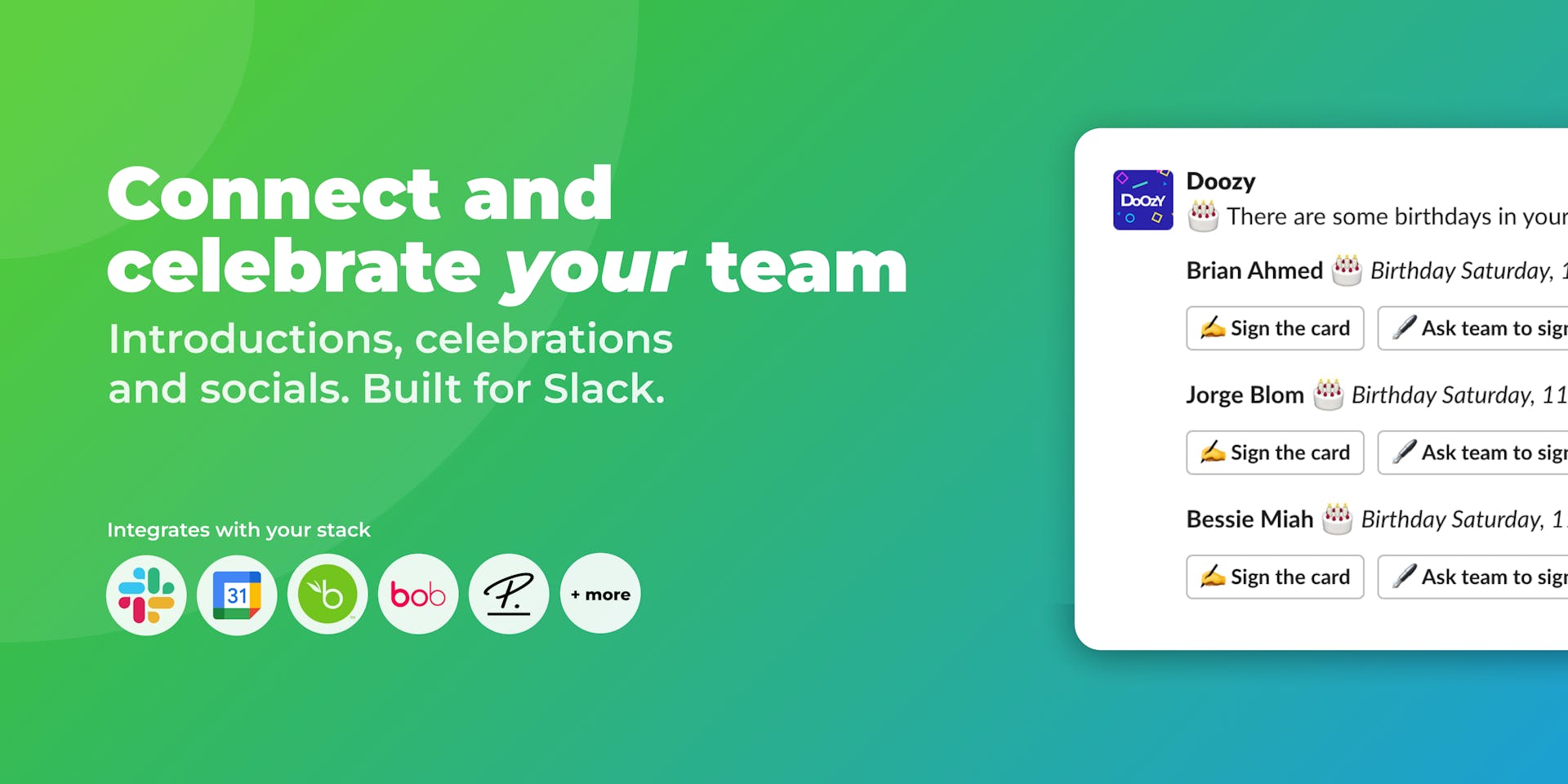 Yes, that's us! 😁🙈 Doozy for Slack is a great Donut alternative. One app to connect and celebrate your team. Whether that's team birthdays and anniversaries, setting up weekly coffee chats, or running daily team trivia. Doozy makes it super easy to foster team connections.
🤩 Pros
Celebrate team birthdays and work anniversaries
Virtual celebration cards the whole team can sign
Engaging daily icebreakers and quizzes, directly in your #fun channel
Team introductions using a matching system that pairs you up with the perfect person
Virtual rooms to host team socials with games, icebreakers and quizzes
Integrates with your HR platform, including BambooHR, Personio, Gusto and and many more!
Works perfectly with Slack, Google Calendar and Microsoft Calendar
😭 Cons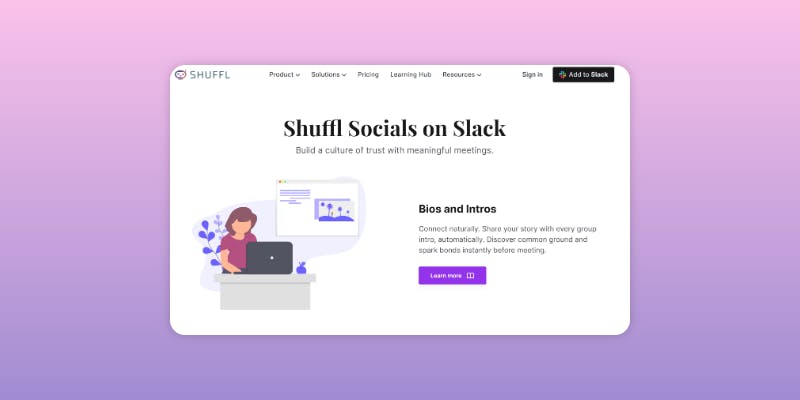 Shuffl.ai offers a Donut for Slack alternative that has 3 main features:
Bios & Intros - Team members can fill in their bios and the app randomly matches together people with the goal of starting a conversation around their topics of interest
Activities - The team is encouraged to start a group call together
Feedback & Gratitude - The team can share feedback or gratitude on a regular basis
The Slack App has a free tier and clocks in at $50 per month for up to 50 members and more depending on the size of the team.
🤩 Pros
Simple activities that encourage casual conversations
Create personal connections with bios & topics
Free tier to test the Slack App
😭 Cons
No further/web-based virtual team-building games
No regular content updates
The Slack App pairs you up, but virtual activities have to be done on other platforms like Zoom or Google Meet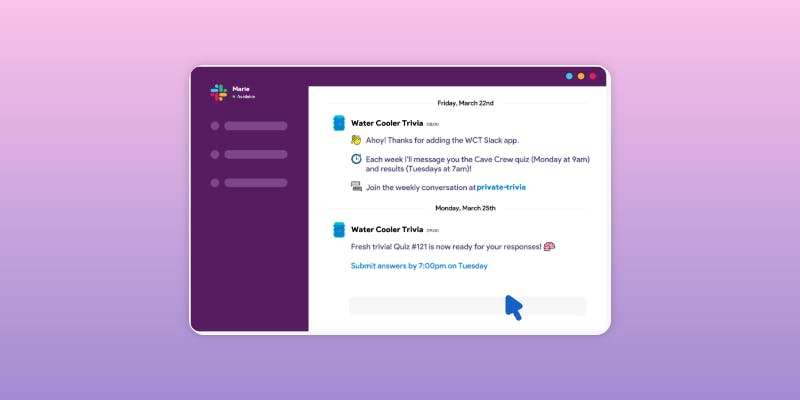 The Slack App by Watercoolertrivia.com has weekly quizzes on various topics that are shared in your Slack channel. Once installed, the Slack App can be used for 4 weeks for free (10 responses per question allowed); after the trial period you have to pay $1 per participant per month.
🤩 Pros
Weekly changing trivia quizzes
Free to test for one month
Low cost for small groups
😭 Cons
No games or other virtual team activities
Further virtual team activities have to be done on other platforms like Zoom or Google Meet
Interactions focused on a weekly basis might lead to little engagement on the other days of the week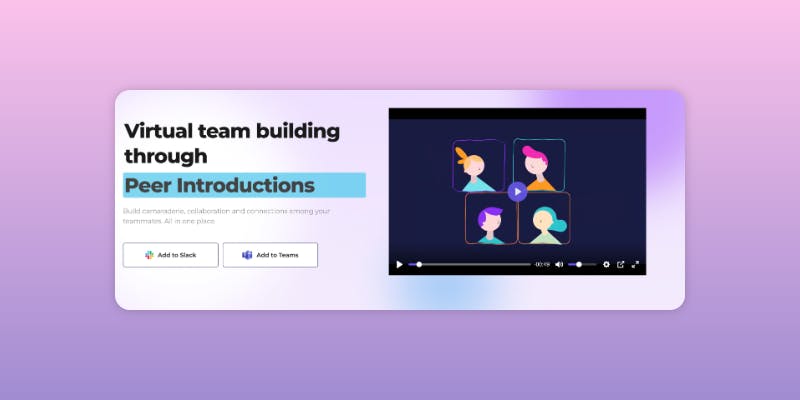 The Slack App Trivia by Springworks offers virtual quizzes, activities, icebreakers, and auto-scheduler for happy hours. Besides the Slack App Trivia, they also have a web platform.
🤩 Pros
Wide range of virtual games, icebreakers, quizzes, and virtual team activities
Web platform available for video calls, whiteboards, etc.
Engagement Reports
😭 Cons
Games are focused text and word games (not highly interactive)
No public preview of the quiz topics and categories is available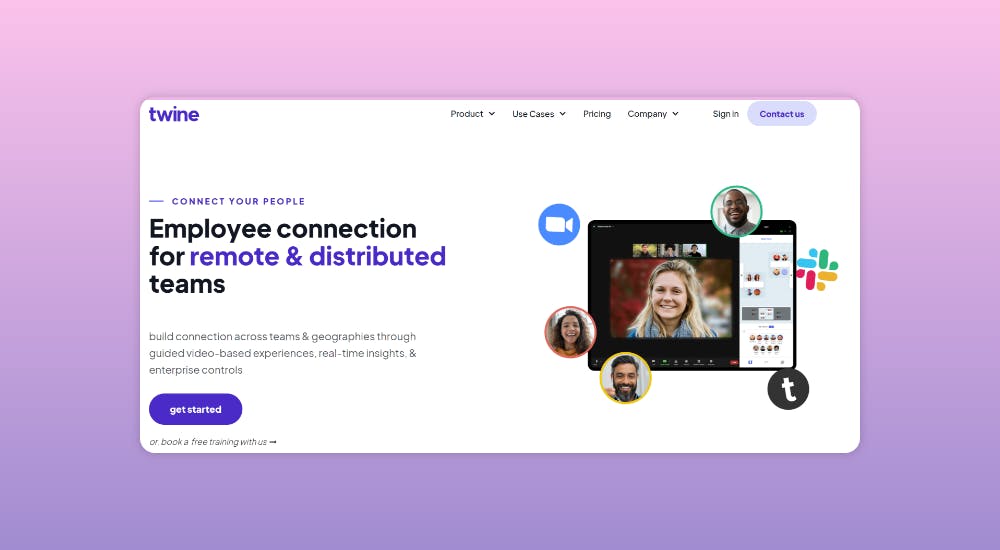 Twine for Slack is an App that sends out a message to your teammates to have a video call via the Twine Web service. It can be used to onboard new hires, or to have regular team video chats.
🤩 Pros
Easy to set up
Free Slack App
Low-cost pricing starts at $25 per host (unlimited participants)
😭 Cons
No interactions within Slack
No quizzes, games, icebreakers, or other interactive virtual team activities
No regular content updates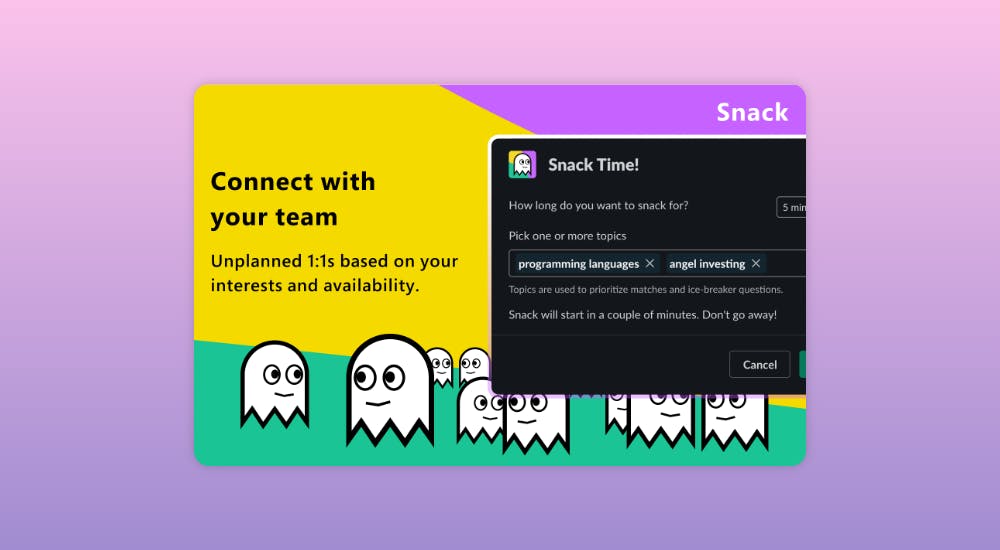 Snack organizes low-effort one-on-one video meetings with icebreakers that can help your team or conference build a better rapport. The app is currently not approved at the time of writing this article (Nov/22).
🤩 Pros
You can automate scheduling your meetings with teammates in Slack
Topical icebreakers for the meetings
😭 Cons
The Slack App is currently not approved
No regular content updates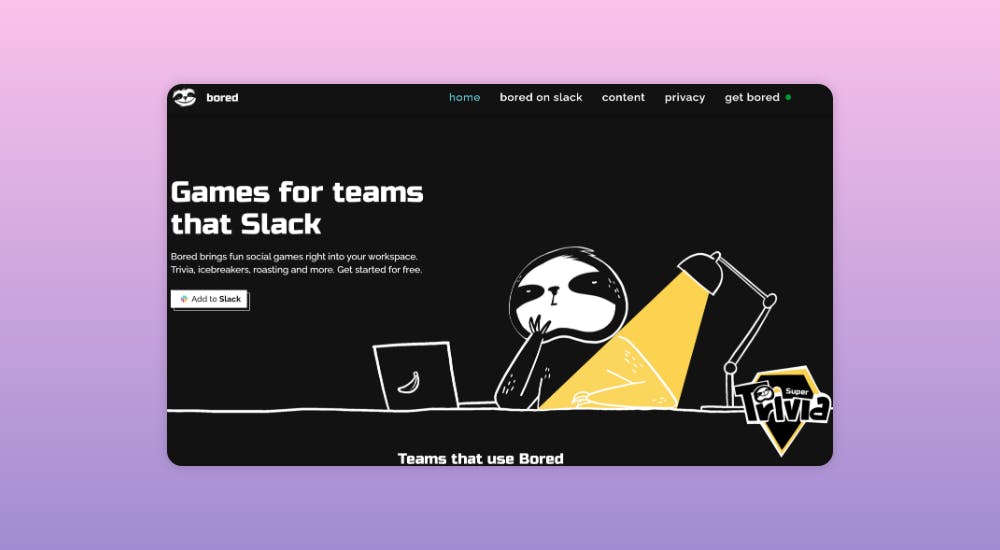 Bored is a social Slack App that allows you to play trivia, icebreakers, and roasting games with colleagues. The Slack App is in Beta and therefore currently free of charge.
🤩 Pros
Various quizzes, icebreakers, and games
Web platform for games
Free of charge as long as in Beta-Phase
😭 Cons
In Beta, therefore changes can be made at any time regarding pricing or the product
No customizable templates
No dedicated team, as bored is a product of the parent company (Super Gaming)
There are many options besides Donut for Slack
There's a wide range of alternative Slack Apps for connecting teams. These range from mainly offering trivia in Slack, to pairing up people for a call to a single app that handles all of your team engagement (that's us 😅!)

We think Doozy is the best way to connect and celebrate teams in Slack. Give us a try for free and you'll be up and running in a matter of minutes. Try for free.
Author
Jesse K.
Jesse helps companies working remotely create a social connection by providing trending topics & inspiration via remotenactive.com